Back
How to Create a Total Compensation Statement (And Why You Should)
By: Benefits by Design | Tuesday March 30, 2021
Updated : Monday November 29, 2021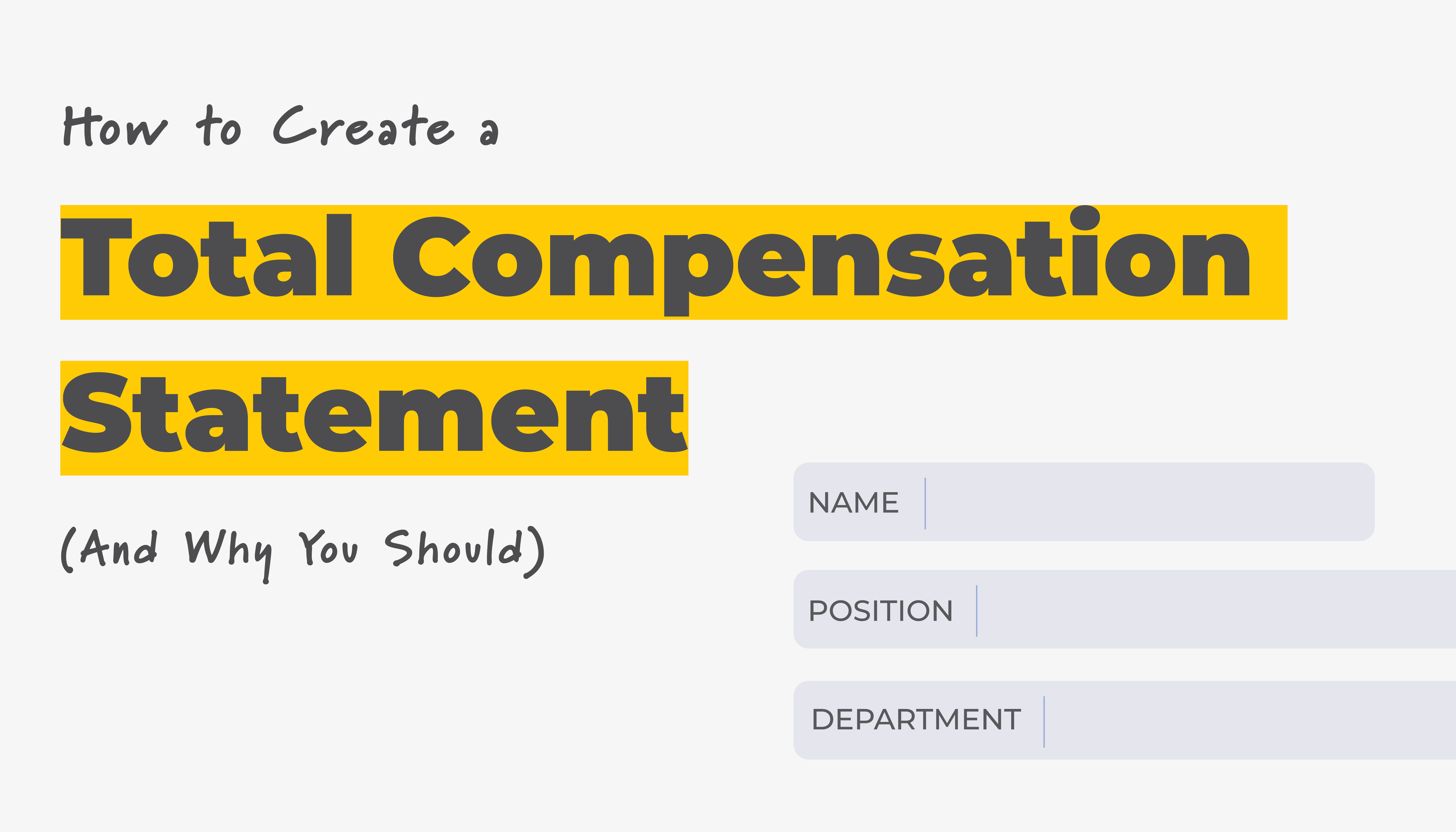 If you're looking to attract and retain top talent in your organization, boost employee engagement, and increase job satisfaction, you need a total compensation package.
More importantly, you need to communicate what you're offering employees effectively with a total compensation statement.
What is Total Compensation?
Total compensation is the full value offered to an employee and can be used to describe not only salary and wages, but also all the plans, programs, benefits and opportunities that are available to an employee through their employment.
These can include compensation (salary), benefits coverage, RRSP matching, vacation, sick days, paid time off, other perks such as flexible work schedules or the ability to work from home, and more!
10 Creative Additions for a Competitive Total Compensation Package
What is a Total Compensation Statement?
A total compensation statement is a reminder of the full value that employers provide and gives employees essential information about their overall compensation. These statements create awareness of the total value of an employee's compensation beyond salaries.
A total compensation statement highlights all of the core offerings of an employer's total compensation package and is generally delivered as a document to the employee.
What is Included in a Total Compensation Statement?
The answer to this will vary based on what compensation, perks, and benefits you provide to your employees. Anything you do that employees would see value in should be included.
Ask yourself, do you provide:
Variable pay or bonuses?
An employee benefits plan?
Any retirement benefits?
Professional development opportunities?
Vacation and/or Personal Time Off (PTO)?
Paid volunteer hours?
Flexible working hours or work from home opportunities?
Complimentary coffee, tea, or other foods?
Free parking on site?
Committees, parties, BBQs, and other social gatherings?
If you answered "yes" to any of the above, it should be included in your total compensation statement. Keep reading to learn how to build one out.
Why Should Employers Provide a Total Compensation Statement?
Plenty of reasons! Here's a few:
#1. Create Awareness
The more you talk about your compensation package, the more people know about what is included and offered by their employer. Which is kind of the point, right?
#2. Increase Usage
Regularly reminding employees about key aspects of their total compensation will increase the usage. For example, a quarterly update on vacation usage will incentivize employees to take vacation, which is a good thing for them and your business.
#3. Increased Job Satisfaction
Employees who feel valued and understand the full scope of their compensation have higher job satisfaction and employee engagement. That translates into better performing employees — increased productivity, creativity, customer service, and more.
#4. Attract and Retain Top Talent
Total compensation statements can also serve as a strong retention tool for top talent. If employees are regularly reminded of how good they have it with you, they'll think twice about leaving. Likewise, creating a strong employee value proposition (EVP) that includes a competitive total compensation package will attract talent to your business!
Here's How to Create a Total Compensation Statement:
So you want to create a total compensation statement and begin boosting engagement, job satisfaction, and employee retention? Let's do it.
To keep it simple, we'll break our total compensation statement into two parts: Compensation and Other Benefits and Perks.
Compensation
The Compensation section is where you'll outline the full monetary compensation provided to an employee, which can include:
Base earnings (salary)
Variable pay, bonuses, stock options, etc
Group Retirement Savings Plan (GRSP) contributions, if applicable
Statutory deductions
Employee benefits contributions
Depending on your offerings and how you want to structure your compensation statement, you could also include vacation, personal time off, professional development dollars, and/or volunteer hours.
Anything that you offer to employees that you don't talk about on your total compensation statement is a missed opportunity, so if it doesn't fit under compensation, be sure to mention it elsewhere!
Other Benefits and Perks
Here's where you'll list any other awesome things that your business provides to its employees, from flexible work schedules to vacation time, to complimentary coffee and tea in the break room.
Here's an example of BBD's "Perks & Other Benefits" from our own total compensation, which might include few benefits you may not have thought of: