Back
Winter Activities to Help Keep Employees Healthy and Happy
By: Benefits by Design | Tuesday November 16, 2021
Updated : Wednesday October 12, 2022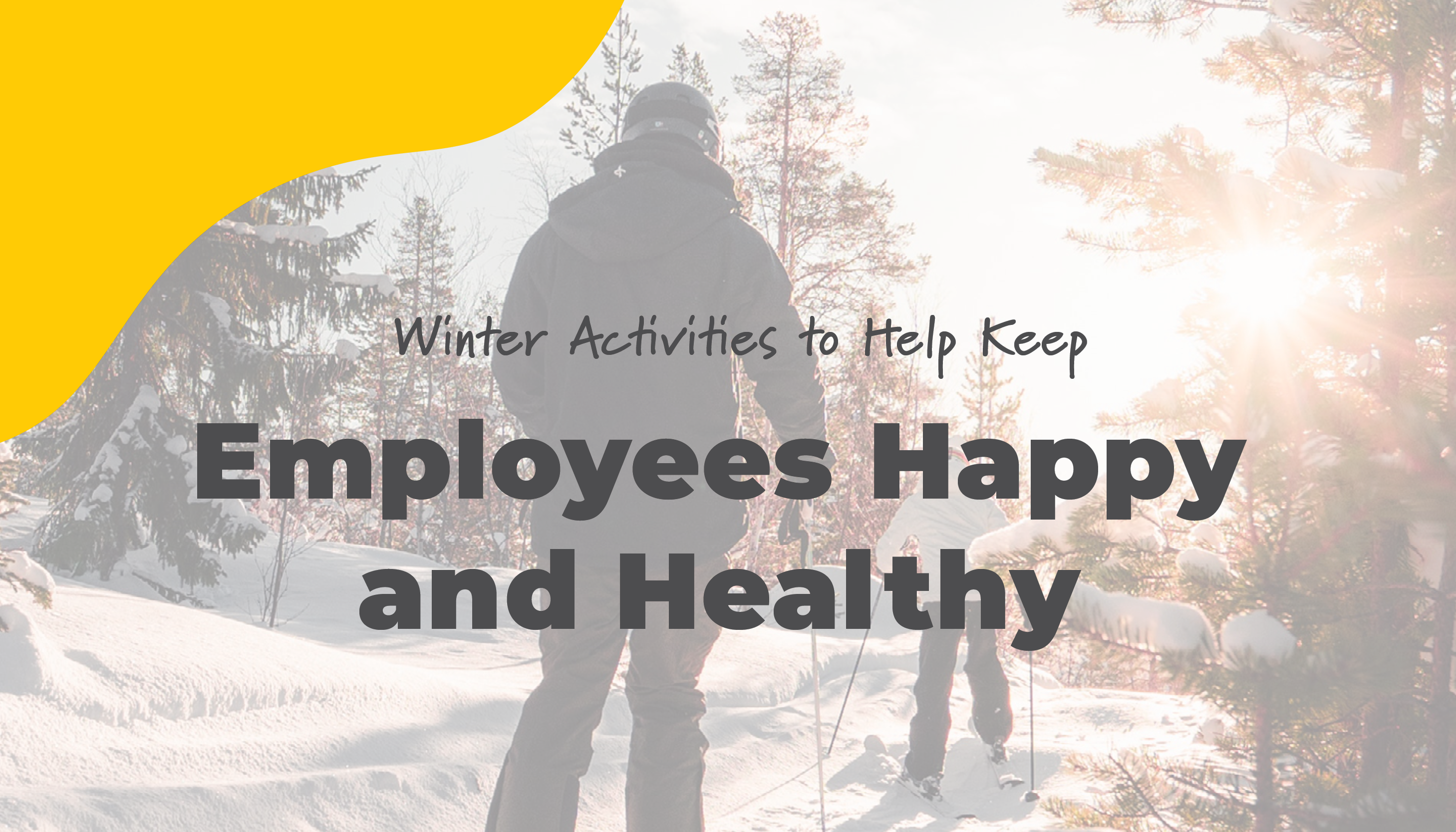 Canadians are no strangers to the cold and snow! Each year we hunker down and brave the winter weather while we dream of sunnier days. And although getting cozy around a fire has its allure, we also find ourselves moving less and eating more.
Staying active relieves stress and anxiety, and improves employee productivity, so it's important to stay active. We've compiled a list of winter activities to help get employees moving. And did we mention it can help protect your benefits plan?
The Employer's Role in Preventative Healthcare & How It Impacts Benefits
7 Winter Activities Ideas
Just because it's winter, doesn't mean we actually hibernate, despite the fact we commonly say we do. Our bodies still need regular activity and our healthy habits should be carried into the darker months!
7 Employee Wellness Activities to Keep Your Company Culture Thriving
#1 – Join a Gym
This one might be a little obvious, but there's nothing wrong with tried, tested and true! And with gyms opening up again across the country, now may be just the time to take advantage of sales incentives for new and returning customers. Gyms also offer personal trainers and a multitude of fitness classes for every level, or you can work out solo. Plus, these "winter activities" can carry right on into spring!
#2 – Hit the Deck
The pool deck that is! Indoor swimming pools offer the protection from the winter weather, while letting you enjoy a summer activity! Swimming is also one of the best full body workouts and is great for those experiencing joint pain or issues. Plus, before you leave, you can get your core temperature soaring with a good soak in the hot tub – which can keep you warm for hours to come.
#3 – Winter Sports
There is a plethora of winter sports available in Canada. When you deal with snow for 4-5 months of the year, it stands to reason you would find ways to enjoy the time. Try renting some skates and going for a round of ice-skating. Or maybe you prefer to have a stick in your hand. Gather your friends for a lively round of ice-hockey (skates not required).
If you're more into solo sports, try snow-showing, skiing, or snowboarding. Children and adults of all ages never complained about a good tobogganing session. Any one of these winter activities is always best followed by some hot apple cider or cocoa — it seems that much sweeter when your nose and cheeks are cold!
#4 – At-Home Workouts and Mini-Moments
Don't underestimate the power of movement! Even little bits throughout the day can help keep you feeling less stressed and more motivated. There are so many apps that offer free at-home guided workouts! You can also check out Pinterest or the library if you're more into DVD's. If you're out and about, try taking the stairs instead of the escalator, and park farther from the entrance if it's not too icy!
#5 – Play
Playing is one of the best forms of exercise because it goes by in a flash and it's fun, so you can get a lot in without even realizing it's happening. Sign up for an indoor league to keep yourself on track and motivated! Or grab some friends for a pick-up game. Ball hockey, indoor soccer, volleyball and basketball come to mind, but there are so many more! For those who have families, you can combine quality family time with exercise for everyone by playing with your kids! Hide and seek anyone?
#6 – Go for a Walk
On those rare sunny days, try to get outside for a walk. The sunshine can be just as invigorating as the walk! If you're itching to stretch your legs but the weather is just not cooperating, try going for a stroll in your local mall. There's plenty of sights and sounds, but you don't have to bundle up so much! We suggest trying not to bring too much money so you don't end up turning your healthy exercise into a shopping spree.
#7 – Get Into the Holiday Spirit
With the holiday season comes markets and lights! Head to a Christmas market or light display — you'd be surprised how many calories you can burn walking around staring at pretty lights for a few hours. Plus, pretty lights!
8 Ways to Help Employees Reduce Stress and Boost Productivity
When employees are active, they are happier and more constructive. They also spread that positive energy throughout your organization — which fosters good company culture and brings everyone together!