Back
[Free Download] Reimagining Health & Wellness for a Remote Workforce
By: Benefits by Design | Tuesday December 8, 2020
Updated : Monday January 16, 2023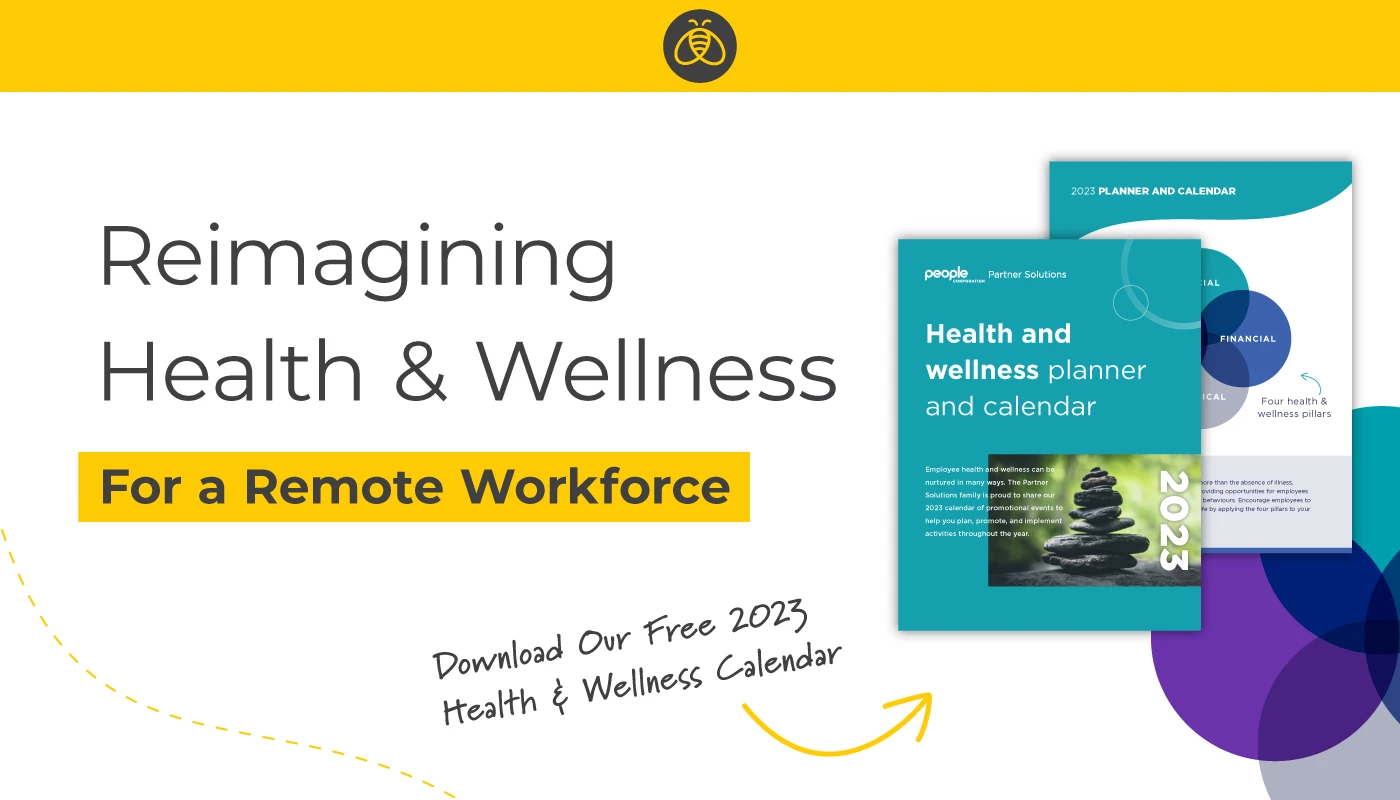 The Canadian workplace looks a lot different now than it did in 2020. Social distancing and empty break rooms, screening protocols, sanitizing stations, and masks are all new additions to many workplaces.
We reimagined our annual Health and Wellness Calendar for 2022 with all of this in mind, equipping employers with the tools they need to bring health and wellness to the remote workforce. We've continued along this avenue by providing you with new and useful links and ideas for 2023.
Many Canadians are still working from home (and will likely continue to do so even after COVID-19), leaving employers to maintain corporate culture, employee engagement, and workplace health and wellness programs remotely.
6 Health and Wellness Tips for a Remote Workforce
Tip #1. Let's Get Physical!
COVID-19 has weakened the fitness focus of many Canadians. Gym closures and unpredictable weather contribute to Canadians not getting enough light exercise.
Our own Health and Wellness committee set up remote activities and calendar reminders for employees to exercise. Pair that with wellness apps that encourage healthy behaviours like Change4Life , Cross the Line or Daily Burn, and there's a little something for everyone.
Tip #2. Keep Mental Health in Mind
Employees' mental health may take a bit of a hit in a world of social and physical distancing, and employers have a role to play in supporting them! Consider implementing mental health breaks, regular check-ins, and providing support through options like an Employee Assistance Program (EAP).
#3. Ensure an Excellent Ergonomic Escritoire
'Escritoire' is another word for desk, which just didn't fit the alliterative vibe we were going for. Yet the point still stands! With more people working from home, ensuring that everything is ergonomic is key for long-term health and to avoid pain and discomfort.
Check out this three-minute video of an ergonomics expert explaining how to set up your desk!
#4. Implement Virtual Coffee Breaks and Social Gatherings
There's a lot of important socializing that gets missed when employees are working from home. Things like break room or water cooler chats about weekends, for example, which actually help forge stronger bonds between employees.
Our New Business team set up regular online "coffee breaks" throughout the week to take 15 minutes to relax and chat, just like in the office!
#5. Promote (and Support) Employees' Hobbies
How many of your employees hopped on the sourdough bandwagon in 2020?
Hobbies are a great way to unwind, destress, and spend time doing something you enjoy. Employers would do well to support their employees' interests! Hobbies give people fulfillment and happiness, and happier employees are more productive and engaged. Encourage employees to try new things or to revisit old hobbies and consider supporting them financially through a Personal Spending Account (PSA).
How Promoting Your Employees' Hobbies Makes Your Business Better
#6. Expand or Modify Existing Benefits Coverage
Consider taking a look at your current employee benefits offering and evaluating what changes could better employees' lives while working from home.
As an example (and this one didn't cost any extra money), BBD expanded the allowable expenses under our own Personal Spending Account to include desk supplies, office chairs, etc. Since employees are working from home now, we wanted to ensure they had the resources available to set up ergonomic desk spaces. It was a simple change with a big impact!