Back
Telemedicine in Canada: What it is, Where It's Going, and Why it Matters
By: Benefits by Design | Tuesday April 16, 2019
Updated : Friday June 26, 2020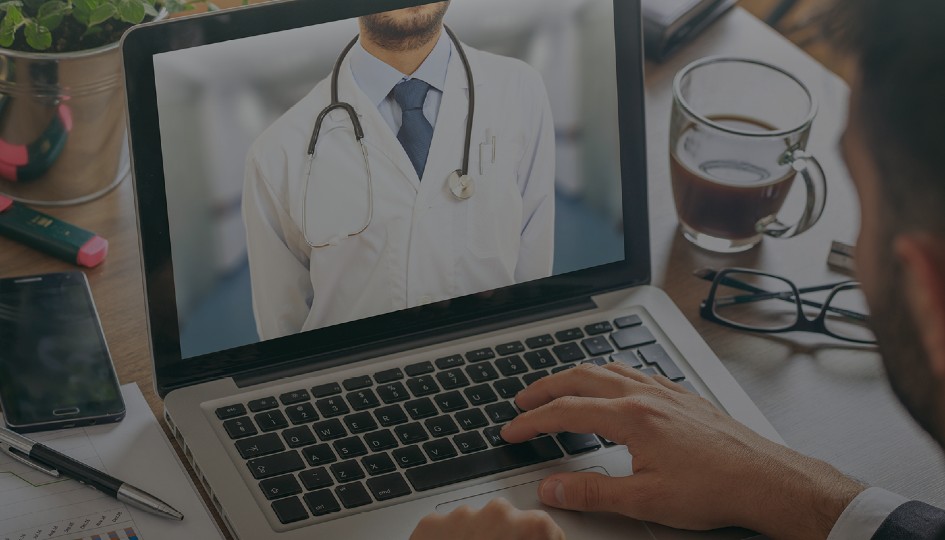 Healthcare at your fingertips? It's not that far away.
New healthcare technologies are emerging every day. These technologies have a significant impact on a person's life (consider 3D-printed replacement organs, smart inhalers, better prosthetics). There is one that might just be bringing health services to your home – telemedicine.
What is Telemedicine?
Telemedicine, sometimes referred to as telehealth, is a technology that allows the remote delivery of clinical healthcare services.
It encompasses a wide distribution of services, including healthcare visits, physiotherapy, psychotherapy, and even dentistry! As an industry, it is poised to change the way people interact with their physicians, receive care, and get their prescriptions.
Is Telehealth Something Different?
The two terms are used interchangeably, although they mean slightly different things.
Telehealth includes a broad range of technologies and services to provide patient care and improve healthcare delivery. Generally, telehealth encompasses more solutions. As an example, telehealth could include provider training, administrative meetings, continuing medical education, and clinical services.
Telemedicine is a subset of telehealth that refers to providing health care services and education through telecommunications. Examples of this service would include follow-up visits, management of chronic conditions, consultations, and other clinical services provided over secure video and audio connections.
The Benefits of Telemedicine
Telemedicine is quickly becoming an emerging trend in the group benefits industry for a few reasons:
Provides remote access. The remote service delivery allows access to healthcare services from almost anywhere. This brings a higher level of access to care and more convenience for the user.
Costs less. A virtual visit will generally cost less than an in-person visit. Especially when you factor in additional time spent driving to and from the Doctor's office and money spent on gas.
Faster access to services. In a country like Canada, which has one of the longest wait times to see a Doctor in the world, it's far quicker to whip out your phone and use a telemedicine service for a consultation than it would be to sit in a waiting room.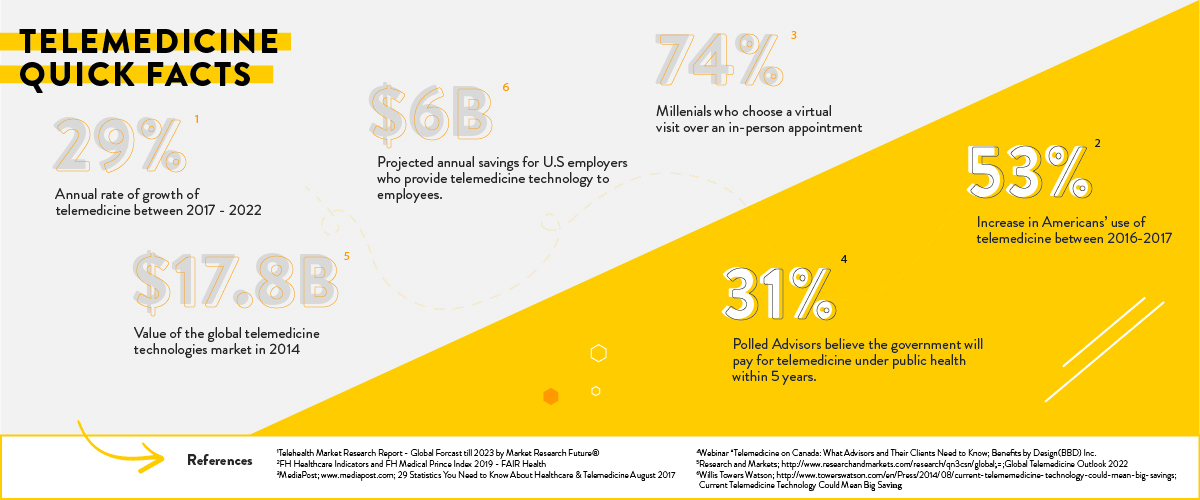 Quick note – Although telemedicine provides these benefits, these services work best as a complement to in-person care, rather than a replacement entirely. It shouldn't be putting Doctors out of jobs, but improving their ability to interact with and treat their patients! As Tim Clarke, President of tc Health Consulting Inc., said on our recent webinar:
Telemedicine allows continuous care to a patient by monitoring their progress, provide additional information and even recommendations between face-to-face visits.
Telemedicine in Canada
While the telemedicine industry is still new, and uptake in Canada is slower than originally thought, we don't anticipate it going anywhere (quite the opposite, in fact). Questions remain as to exactly who or what will be responsible for telemedicine costs in the future.
It's unclear whether the responsibility for providing access to these services falls on employers, Insurers, or the government. Advisors share their opinion on where telemedicine will be in five years as it relates to employee benefits. Here's what they said: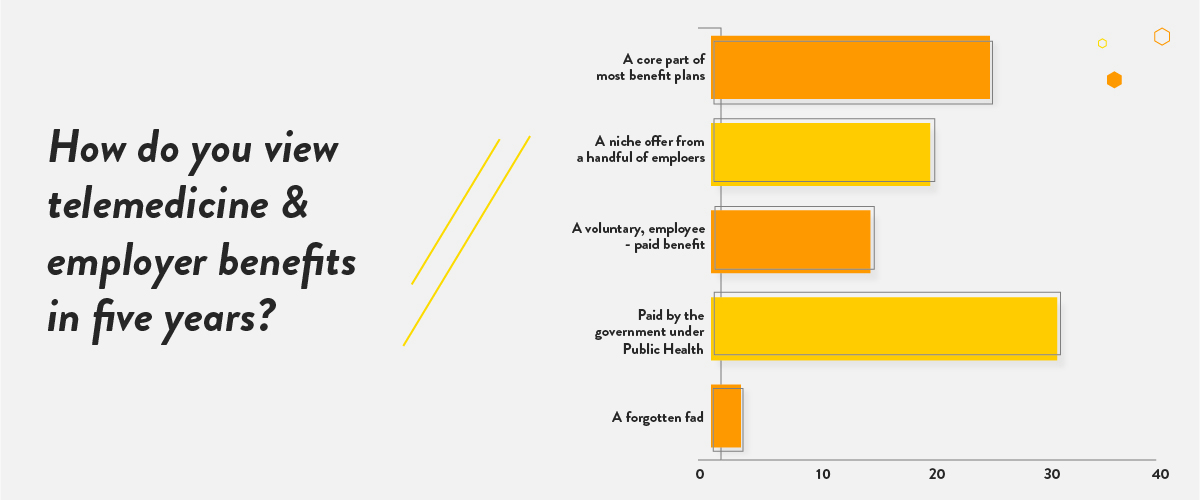 As you can see, telemedicine is still in its infancy. It's not easy to predict what kind of effect it will have on healthcare in Canada, but one thing is sure: it will have an impact.