Back
[Report] Industries with High and Low Employee Assistance Program (EAP) Uptake
By: Benefits by Design | Tuesday July 18, 2023
Updated : Monday August 14, 2023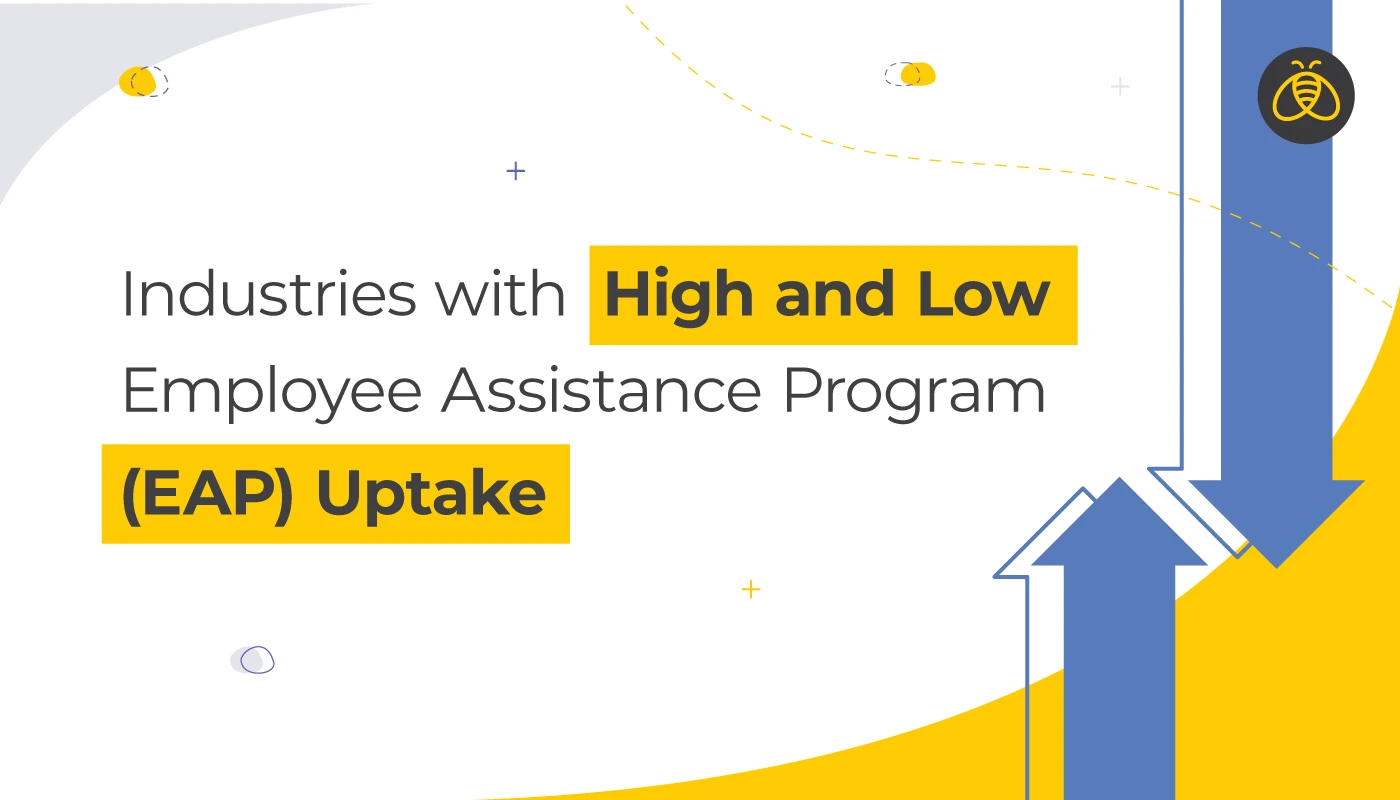 Employee Assistance Program (EAP) uptake varies by industry and group size. Yet, depending on an employee's duties and responsibilities, they may need more or less support from these services. And they may need access to different types of support.
Inevitably, no matter what industry you work in, everyone deals with personal and work-related stress. So, sometimes a little extra, confidential support from an EAP can go a long way.
What is an Employee Assistance Program (EAP) and What Does it Cover?
EAP Uptake by Industry
We took a look at our block of business to see which industries are providing their employees with an EAP, and which ones are not.
Download the 2023 Report: Activity, growth and the future of Employee Assistance Programs
Industries With the Highest EAP Uptake
The following industries topped our list for the most EAP uptake:
39.3% – Mining, Quarrying, & Oil & Gas Extraction
26.5% – Educational Services
25.9% – Finance & Insurance
22.8% – Health Care & Social Assistance
20.9% – Professional, Scientific & Technical Services
We were surprised to find that 39% of our business block in the mining and oil and gas extraction industries have an EAP. This number far outpaces any other industry. Based on the overall plan designs for organizations in this industry, we suspect that including EAPs was a part of offering a comprehensive and competitive employee benefits plan to aid in talent acquisition.
We weren't as shocked to see the industries that made up the top two through five industries. Considering the high stress work environments of education and health care workers, we're happy to see that a lot of these employees have access to an EAP.
Seeing the finance and insurance industries, as well as professional, scientific and technical services in the third and fifth spots respectively was expected. Firstly, employees in these sectors have come to expect a robust benefits package, especially in insurance as they are fully aware of the different offerings. In the technical and professional fields, the competitiveness of the job market, and the white-collar aspect of these jobs usually means better benefits plans overall, including an EAP.
How an Employee Assistance Plan (EAP) Improves Mental Health
Industries With the Lowest EAP Uptake
When it comes to the industries that do not have a very high EAP uptake, the utilities industry stands out with a 0.0% uptake rate. This means that utilities workers with workplace or personal issues do not have access to a service that can either help them through their issue or direct them to someone who can.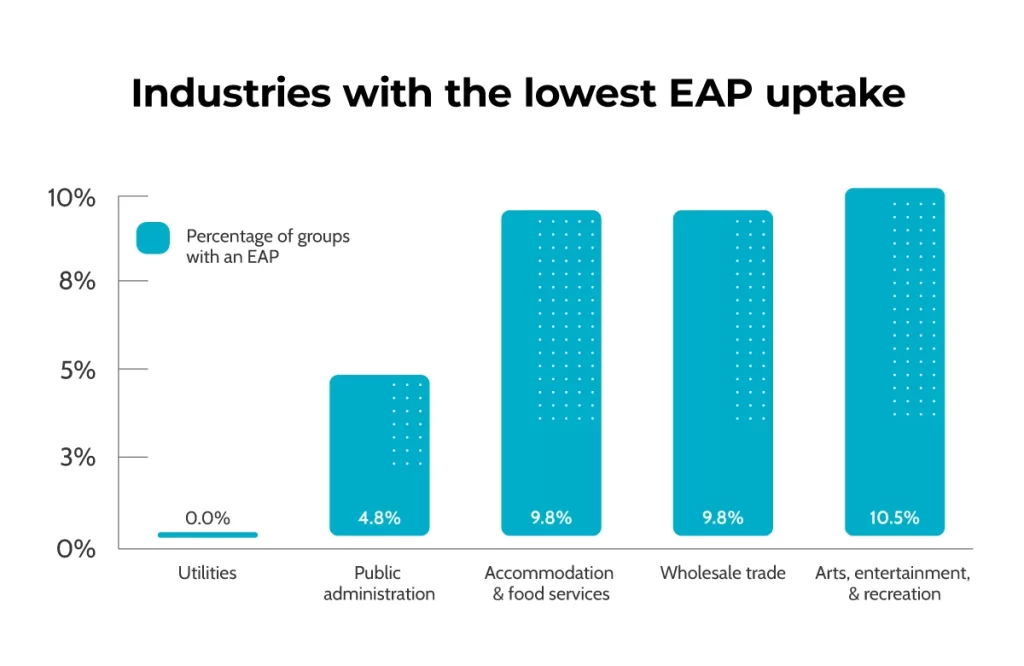 In the long run, this could cost employers, since employees only choice could be to take a mental health leave. And since "the cost of disability leave as a result of mental illness is about double the cost of leave due to physical illness," the consequences of such a leave are felt by both employee and employer.
Addressing the Troubling Trend of Rising Disability Claims in Canada
Accommodation & food services, wholesale trade, as well as the arts, entertainment and recreation industries are all offering EAP services about 10% of the time. While we didn't survey our clients to find out why this is, one thing to note is that these industries typically do not have the most robust employee benefits plan to begin with. And since EAP support is still considered an ancillary benefit, these companies may not be looking at including it in their limited benefits budget. In the long run, the short-term savings could end up costing them more.
Surprisingly, employees who work in public administration will also find access to an EAP is lacking. The rate of EAP uptake is only 4.8%. When compared to other industries that employ workers with similar abilities and skillsets, this is a stark contrast.
We aren't completely sure why that is the case, but one possibility is that these are larger organizations, and therefore they have their own in-house EAP services, or they outsource that specific benefit so they can negotiate rates separately.
Calculating the Return on Investment of Employee Assistance Programs
EAP Uptake by Group Size
The size of the organization is also a factor in whether the employee benefits plan includes an EAP. As the company size increases, so does the uptake in EAP.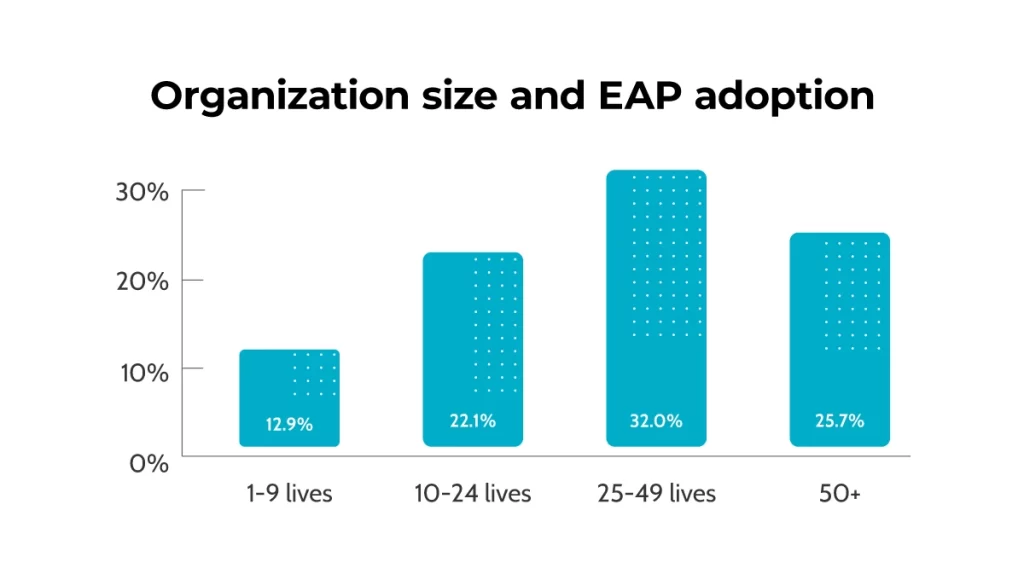 As seen in the above image, groups with only 1-9 lives have a much smaller EAP uptake. We believe that this is partly due to the fact that small businesses don't have the same size budget to spend on employee benefits. On average, companies should anticipate spending between 15% to 30% of what they spend on payroll on employee benefits.
The sweet spot appears to be groups with 25-49 lives, with an EAP uptake of 32%. These employees benefit from being part of a large enough company that most of their benefits needs are likely being met. Yet they are still small enough that adding the EAP to their benefits plan via a third-party administrator made the most sense.
Once the group size reaches 50+ lives, the EAP uptake drops off slightly, settling at just under 26%. "We suspect this decrease is because larger organizations may be going directly to the provider. Or they may have their own in-house assistance and resources and therefore do not need to outsource." 
Since 2018, we've seen a 34% increase in EAP uptake in our block of business. And according to the 2022 Benefits Canada Health Care Survey, 75% of employers are expecting to dedicate funds, staff and/or resources to employee wellness. What's more, the survey found their top priority for new programs was emotional and mental support (46%).