Back
Incorporating Employee Feedback in Your Benefits Plan
By: Benefits by Design | Tuesday October 24, 2023
Updated : Monday October 23, 2023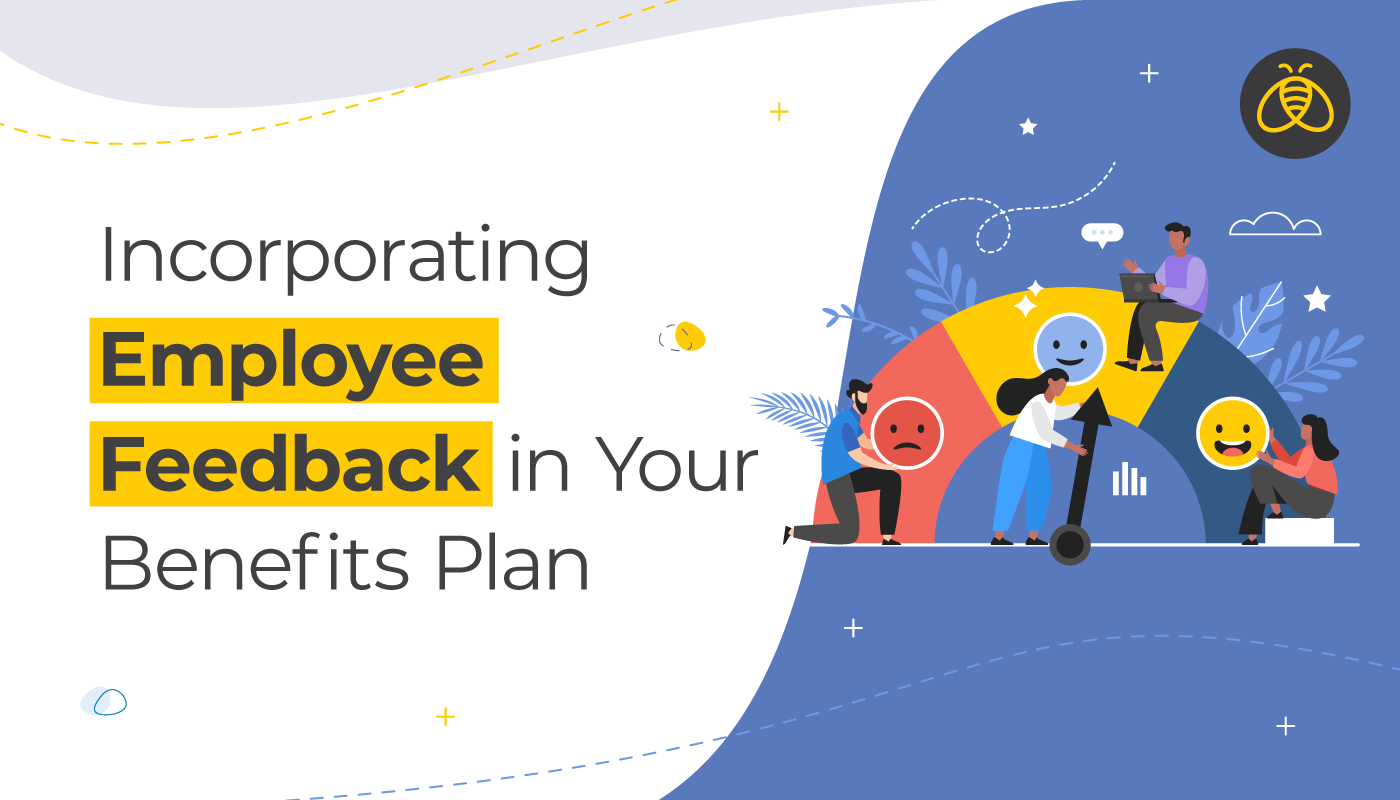 This is a guest blog post by Ainsley Lawrence – content writer.
At the beginning of 2023, a survey showed 50% of Canadian workers planned to change jobs. That's a huge number, and if your company is focused on attracting and retaining top talent, this kind of mobility poses a huge risk — and a huge opportunity.
If your organization is known for offering top-flight benefits, you could easily attract top talent looking for a new opportunity while retaining the talent you have. Benefits that go beyond the required paid leave and parental leave can help your company stand out to employees.
However, in order to offer the strongest benefits package, it's essential to get employee feedback about what benefits matter most to them.
How can you get employees to share feedback and then incorporate it into your benefits plan? Here's what you need to know.
What benefits matter to your team? 
Different organizations attract different types of workers, and that means benefits packages need to be tailored to your team. Also, your team's needs may change from year to year, which is why it's important to review your benefits plan regularly.
For example, an office that employs a lot of parents might find a strong preference for paid parental leave, childcare assistance, and family-focused benefits. Or, you might find in talking to your team that people are most interested in hybrid or remote working arrangements and are less focused on other issues.
Don't underestimate the impact of benefits on employees' work decisions. Salary isn't everything. By taking the time to survey your team, you can take steps to offer the benefits that are most likely to both attract new talent and retain the great employees who already work for you.
How to get employee feedback 
There are a variety of ways to talk to employees about benefits. When deciding what strategies to use, think about your work culture and what fits your company best.
Focus groups 
Focus groups allow employees to brainstorm together and talk about what benefits are most important to them. Hearing someone else share may trigger another employee to say something about what matters most to them.
The moderator should have a list of questions to ask, such as "What are your biggest concerns outside of work?" and "How have you used X benefit this year?" You can also ask the group to rank different categories of benefits, including paid time off, mental health support, financial wellness support, and more.
Anonymous surveys 
Not everyone will be comfortable sharing in a group setting, which is why having an anonymous survey is important. Even people who spoke in a focus group might have more to say in a private survey.
The questions on the survey can be similar to the focus group, but it might be a good idea for the questions to be multiple choice so that data analysis is easier.
Exit interviews 
When someone leaves your organization, you have a chance to get feedback on what went wrong and why they're leaving.
During an exit interview, you should ask about why the person is leaving the company, what could be improved, and what the employee's relationship with their manager was like. But don't overlook questions about benefits as well. It could be that the lack of a specific benefit was the dealbreaker, which is important information for human resources (HR).
Potential benefits to offer 
What benefits have a strong draw for employees? While there's no single answer that appeals to everyone, there are elements of a total compensation package that make a difference.
Work flexibility is one of the top benefits employees look for today. COVID-19 showed everyone that effective work can be done from home, and benefits like flexible hours and a hybrid or even remote work arrangement can be a big plus.
Wellness benefits show employees you care about more than their productivity. For example, offering mental health days can help improve employee engagement and happiness and reduce burnout. Fitness subsidies can help employees reduce stress and improve their health. You're supporting the whole person, not just their work.
Professional development benefits help employees learn and grow in their careers and their lives. Perhaps your company can offer continuing education or tuition assistance for those who want to get a degree. The organization can also offer consistent employee development and training for leadership skills and other important career experiences.
Overall, these types of benefits can do a lot to keep employees from experiencing burnout, which is important since burnout is a huge contributor to declines in energy and motivation. The symptoms of burnout include exhaustion, fatigue, depression, and pessimism about work.
Don't wait to find out whether any of your employees are even close to being burned out. Instead, solicit their feedback through one-on-one interviews and the other methods described above. Offering benefits such as flexibility, wellness perks, and professional development are great starting points.
Employee Burnout: Spot the Signs, and Solutions (bbd.ca)
Attract and retain top talent with the right benefits 
In today's competitive employment environment, your organization wants to stand out. By being creative with your benefits, you can catch the eye of talented workers looking for a new opportunity, and you can keep your employees engaged and happy.
The best way to do this is by listening to your employees and incorporating their feedback into the compensation plans you create. By creating an environment of open communication, you can foster loyalty, creativity, and innovation.