Back
Drug Trends: The Use of Antidepressants – Overall Cost and Prevalence 
By: Benefits by Design | Tuesday May 9, 2023
Updated : Tuesday September 19, 2023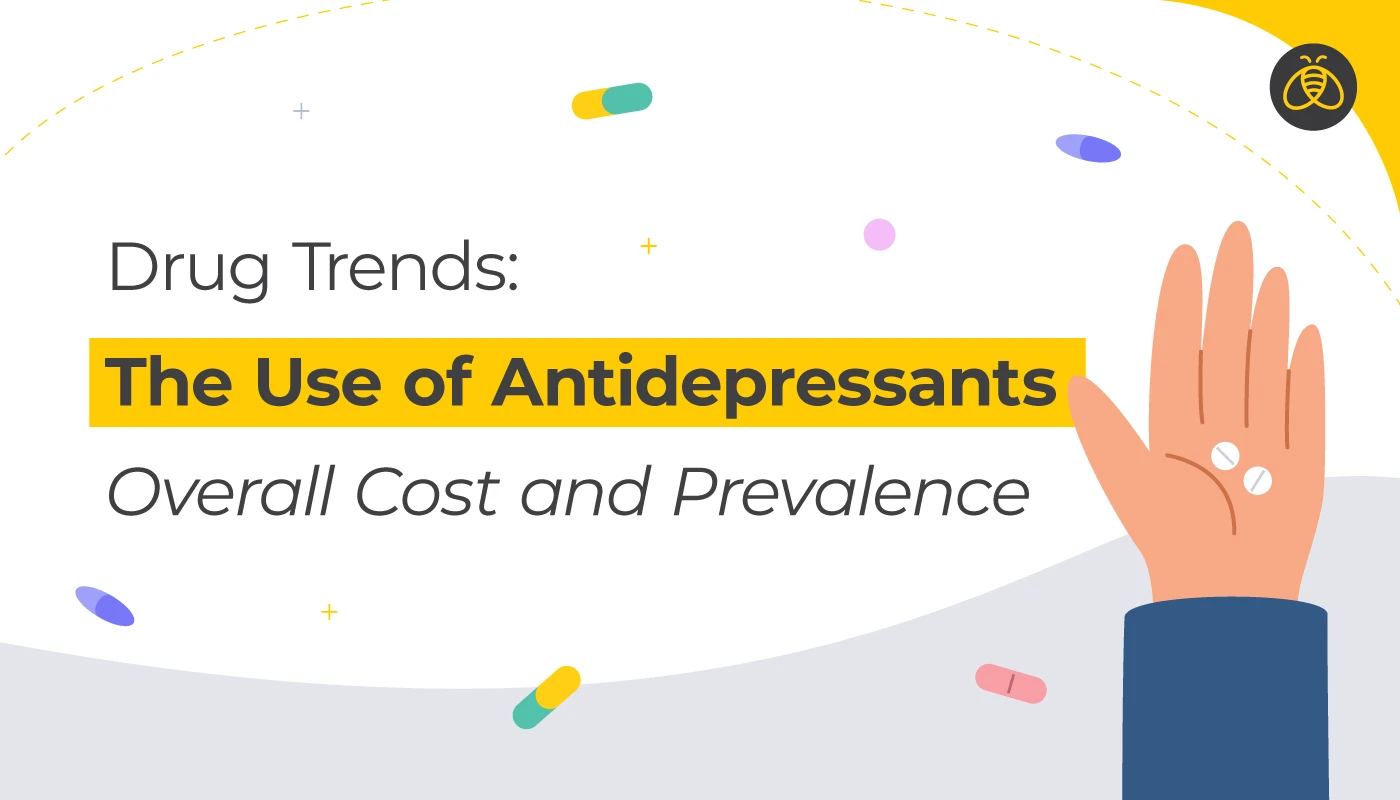 Depression and the use of antidepressants is unfortunately not a new subject when it comes to group insurance. With May being mental health month, we thought we would look at the usage of drugs for depression over the years and evaluate their trends. We used data from the Express Scripts Drug Trend Reports and compiled it to determine both the prevalence of use and the cost of antidepressants over the last ten years.
Mental Illness Awareness and Overall Mental Health of Canadians
Use of Antidepressants Over Time
Drug trends have been telling the story of antidepressant use for a long time. Yet it took the pandemic to really bring mental health, depression, and anxiety to the forefront of the conversation.
Overcoming Mental Health Stigma in the Workplace & Support Employees
So, rather than simply looking at the antidepressant trends back to just before the pandemic, we thought we'd look back at the last ten years. Specifically, looking at the placement in the top ten therapeutic classes, and the total percentage of the overall drug spend for each year. A therapeutic class is the chronic condition for which the medication is required. Therapeutic classes include but are not limited to:
Inflammatory conditions (such as arthritis)
Cancer
Diabetes
Asthma
Percentage of Total Drug Spend and Overall Placement Among Therapeutic Classes for Depression Since 2012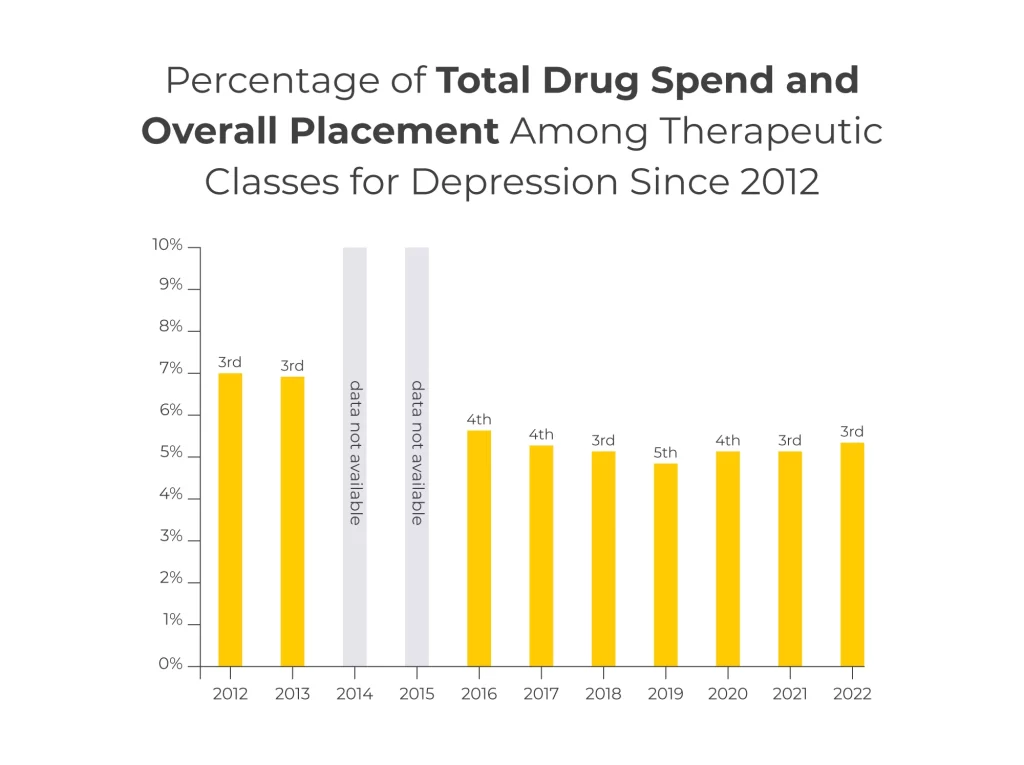 As you can see by the chart, depression has been among the top five therapeutic classes since 2012 and has often been in 3rd place. Inflammatory conditions and diabetes have held the top two spots respectively since 2013. And high blood pressure along with asthma have consistently been in the top five as well.
The percentage of total claims that were spent on depression medication has actually remained fairly steady, and in fact has gone down overall in the last ten years.
This is due to three factors:
antidepressant drug costs have remained steady; plus
the total number of claims and claimants has increased, which equals more overall spending on anti-depressants; but
the use of specialty drugs in other therapeutic classes has increased; therefore spending in the other categories also increased, which has kept depression medication steadily in 3rd, 4th or 5th place.
Another indication of the high usage of anti-depressants was the appearance of the antidepressant CIPRILAX on the top 10 list for traditional drug spending in 2022. This was the first time any antidepressant has made the list since the study began keeping track of this statistic.
Cost of Antidepressants
In 2012, depression represented 7.02% of the total drug spend and 7.86% of the total claims. Ten years later in 2022, depression represented 5.2% of total drug spend and a whopping 25.2 % of total claims. Which means that the amount spent on antidepressants is not indicative of the number of people who are making claims for these types of medications.
The fact that depression hasn't left other therapeutic classes in the dust is due to the relatively lower cost of depression medication in comparison to medications for other chronic conditions.
Why? Because antidepressants are considered "traditional drugs" as opposed to "specialty drugs". Specialty drugs are prescription drugs such as biologics or cancer medications that cost in the tens or even hundreds of thousands of dollars annually. They sometimes require specialist assistance to administer the dose or treatment. These drugs are one of the reasons why it's a good idea to include stop-loss in your employee benefits plan.
There are currently no specialty drugs for the treatment of depression, nor are there any new ones coming down the pipeline soon. However, a newer medication for treatment-resistant patients does cost upwards of $40,000 annually, meaning that traditional or no, the use of antidepressants could still be expensive. 
Pharmacogenetic testing – what is it and what are the advantages?
Use of Antidepressants and Other Conditions
Depression is one of those conditions that is often tied to other chronic conditions. It can either be caused in part by the emotional toll of living with another chronic condition. Or conversely, can be the cause of another one.
The Connection Between Disability, Mental Health, & the Future of Benefits
Specifically for claimants who use antidepressants, there was a high number who also suffered from pain and inflammation (30%) as well as ulcers or acid reflux (27%). This would suggest that living with pain can cause depression. Twenty-two percent of depression claimants also made claims for mental disorders (22%) which is unsurprising given the link between mental health, depression, and anxiety. Lastly, high blood pressure medication (28%) and high cholesterol medication (20%) also appear to be connected with depression.

Prevalence of Depression Among Other Therapeutic Classes
Likewise, there is a noticeable number of claimants with other chronic conditions that also make claims for antidepressants.
Weight Loss Drugs – 42% of claimants
ADHD – 35% of claimants
Pain/Inflammation – 26% of claimants
Diabetes – 23% of claimants
This portrays the fact that depression can also stem from having other medical conditions. The entanglement of depression among other chronic conditions appears to only exacerbate both.
The overall use of antidepressants has been rising steadily, thus keeping it among the top therapeutic classes in terms of overall spend, despite the individual price tags of these medications being relatively less.