Back
The Connection Between Disability, Mental Health, and the Future of Benefits
By: Benefits by Design | Tuesday May 25, 2021
Updated : Wednesday November 16, 2022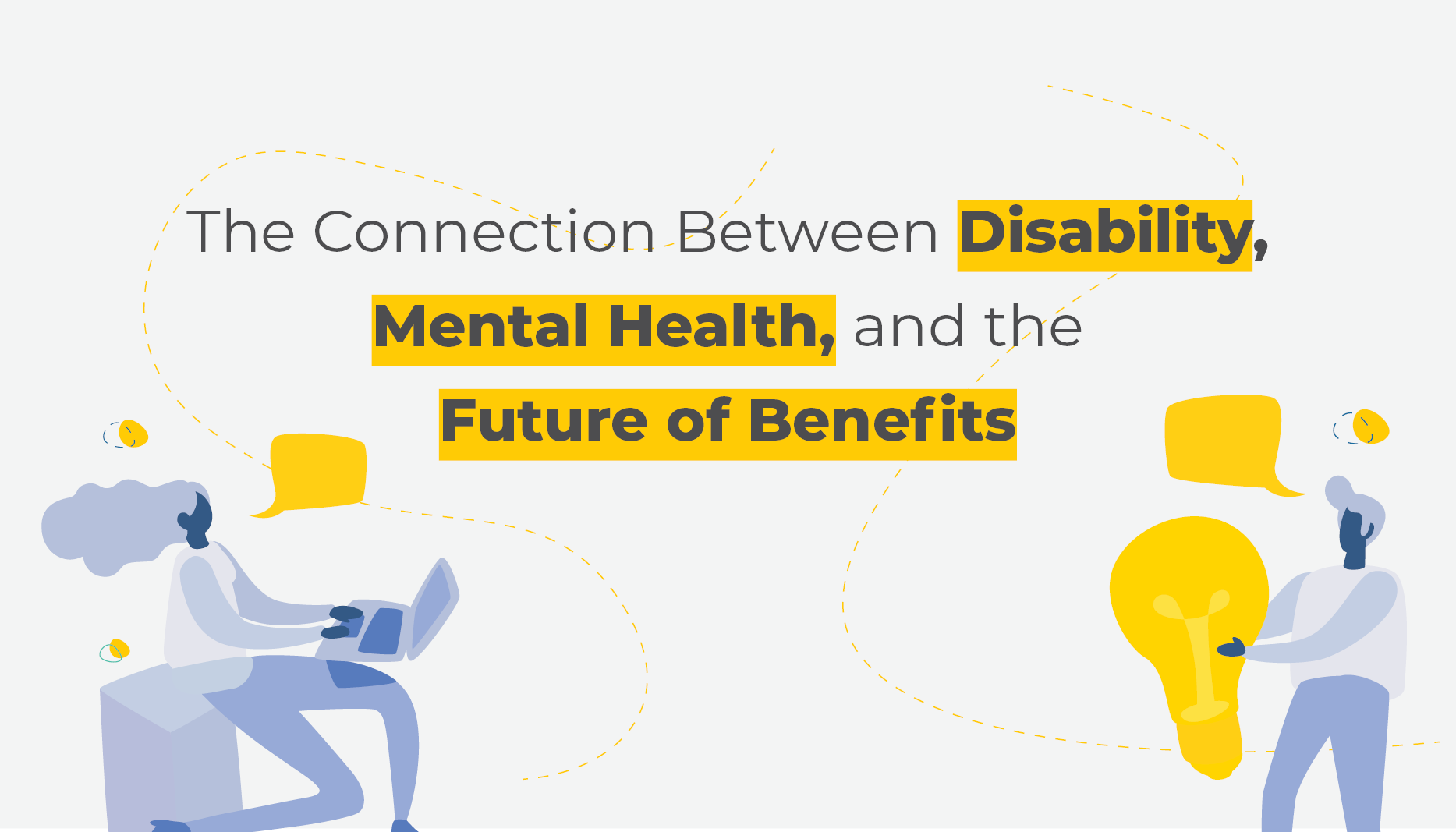 We've talked a lot about the mental health crisis in Canada over the last few years. But there's another trend in Canada that is closely linked: rising disability claims. The two are so closely connected that to talk about one without the other would be a disservice.
Let's take a close, hard look at disability and mental health in Canada and ask ourselves, "How does this knowledge impact the future of employee benefits?"
What's happening in Canada?
First off, let's establish the basics:

Right off the bat, the connection is made. As mental health worsens (bad) and as stigma around the topic is chipped away (good), we can expect disability claims to increase alongside them.
Mental Illness Awareness and the Overall Mental Health of Canadians
Canada's Mental Health Crisis and COVID-19
Even before COVID-19, experts were anticipating Canada's mental health problems to worsen rather than improve. Now, in the wake of the global pandemic, anxiety, depression, and isolation are at an all-time high, leaving employers and working Canadians in a tough spot.
Managing Your Workplace Health During (And After) A Pandemic
Poor mental health has many negative impacts, both on an individual and on a business as a whole, including:
Increased absenteeism and presenteeism
Reduced productivity, engagement, and job satisfaction
Worse overall health outcomes (and thus costs to a benefits plan)
Increased likelihood of disability claims
Employers not only have an obligation to protect employee's mental health, it's in their best interests. What's more, working Canadians overwhelmingly agree that their employer has a role to play in supporting and maintaining their mental health.
Rising Disability Claims in Canada
The number of Canadians claiming disability insurance has been increasing year-over-year for a while now. There are many contributing factors to this trend. However, an increase in mental health claims appears to be one of the most significant.
Among the many reasons for the rise in mental health claims are:
COVID-19 and the anxiety, depression, and isolation that comes with it
A reduced workforce, which puts additional pressure and stress on employees
Reduced stigma around mental health means more Canadians are comfortable seeking help (and therefore making claims, rather than suffering in silence)
Addressing the Troubling Trend of Rising Disability Claims in Canada
The decline in stigma around mental health is worth exploring a bit more. Although it is true that reduced stigma is leading to an increase in mental health claims, it's important to note that this is actually a good thing. In this case, people aren't claiming more because they're feeling more stressed or anxious, but because they're feeling more comfortable seeking help. That's a win!
The Future of Employee Benefits
So with worsening mental health and rising disability claims, the question has to be asked — what does this mean for the future of employee benefits? How will benefits plans be affected?
Although we don't have a crystal ball, there are some educated guesses that we can draw, based on everything we've discussed so far:
Likewise, employers may prioritize mental health support for employees, leading to increased uptake in offerings like Employee Assistance Programs (EAP)s. We've already seen evidence of this within our own block of business as the mental health crisis ramped up, with a 30% growth in EAP uptake from 2018 to 2019.
Mental health support services (such as an EAP) will see increased usage among plan members as stigma declines and mental health worsens. HumanaCare, our own EAP provider, saw a 50% increase in call volumes in January 2021 compared to historic levels.
Paramedical benefits, specifically any benefits for Psychologists, may see increased use and consideration in benefits plans as employers seek additional options to support employees.