The results of the 2022 Benefits Canada Healthcare Survey are in! Full of industry insights and information, it's a great way to get a pulse on how Canadians and Canadian Employers feel about their Health Benefits. We break down the top 6 findings for plan sponsors, as well as the reasons we think they are important or interesting.
1. Employee and Employer Satisfaction
Employees and employers alike believe the quality of their benefits plan is excellent or good – 77% and 80% respectively.

Interestingly, plan members who are provided with virtual care options are in better health, have greater job satisfaction, and who have a workplace wellness culture all view their plans in a better light.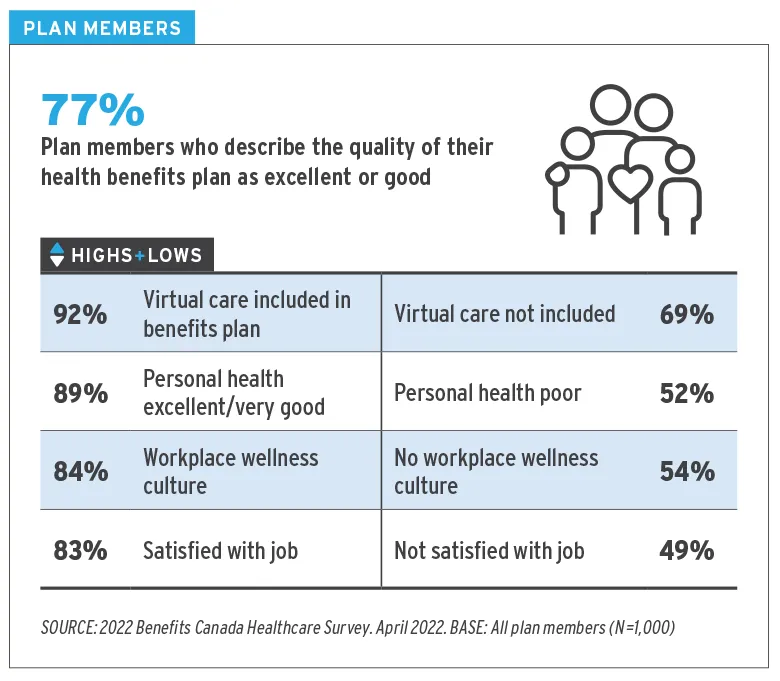 These numbers show the correlation between good health and the perceived value of employee health benefits plans.
Both plan members and plan sponsors play a role in employee health. When employees are actively involved in their own personal health, they will view their health benefits in a more positive light. Workplace wellness culture can help employees understand their benefits, which could make them appreciate them more. And job satisfaction is usually many faceted, meaning that part of the reason they are satisfied could be because of their benefits plan. Lastly, virtual care, which tops the list, is seen as the most valuable in terms of quality. We'll talk more about virtual care a bit later.
2. Employer Concerns Driven by Tight Labour Market
The results don't lie! Out of the 78% of employers who had at least one major concern about their health benefits plans in the future, the highest percentage agree that competitiveness was it!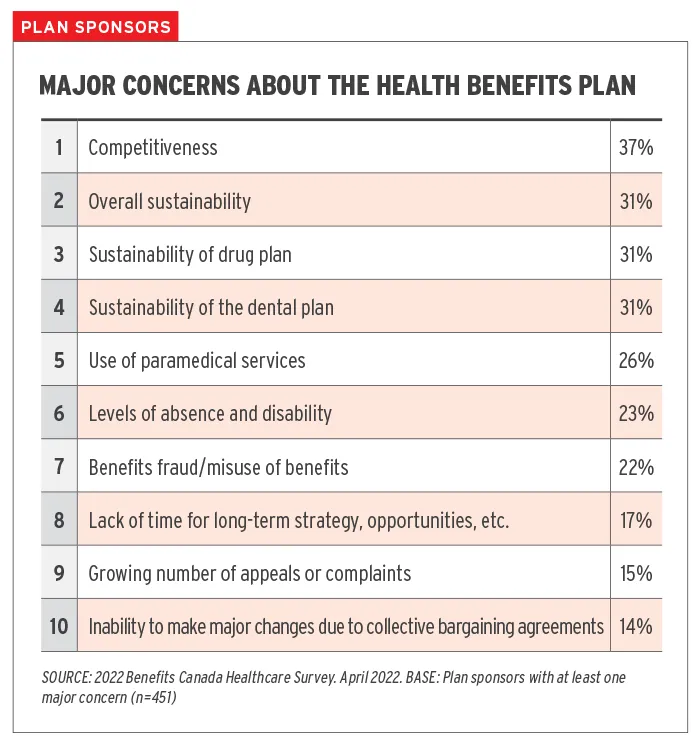 The tight labour market and increasing inflation are influencing all aspects of life, and employee health benefits plans are no exception.
The Tight Labour Market in Canada & How Employers Can Stay Competitive
Barb Martinez from Canada Life puts it perfectly!
"The purpose of offering a health benefits plan is attraction and retention. That's reflected in the top concerns as well – competitiveness is No. 1. But then plan sponsors are most concerned about sustainability. So we make our plans richer while asking ourselves. 'Can we really afford to be doing this?'"
Source: 2022 Benefits Canada Healthcare Survey
Plan sponsors are aware that in order to keep up in the war for talent, their health benefits plans need to rival their competitors. Yet they are legitimately concerned about how they are going to pay for all of this in the long run.
How to Win the War for Talent with These 5 Employee Benefits & Perks
3. Spending Accounts Still the Rising Star
Since 2017, spending accounts have been on the rise! Almost half of employers now offer a Health Care Spending Account (HCSA) and 30% provide a Wellness Spending Account (WSA).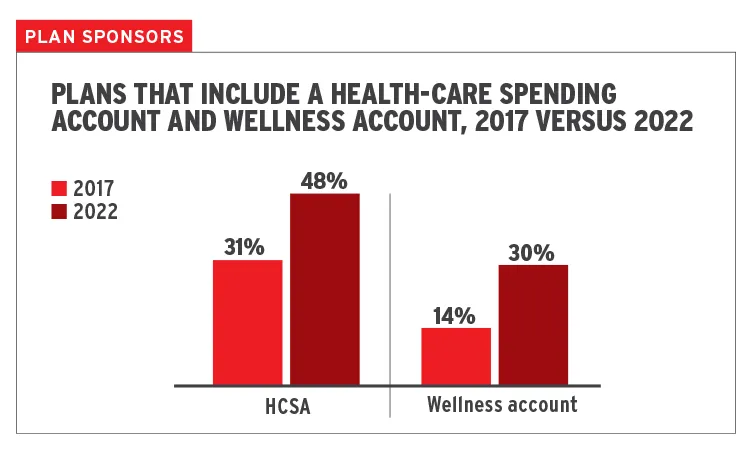 And for good reason. Spending accounts are a great way for employers to provide flexible benefits to a variety of workers and generations.
Employers worried about sustainability would do well to look into providing this type of coverage. Not only does it offer worry-free benefits budgeting, but employees see great value in their spending accounts (94% and 86%), as shown by the graphic below.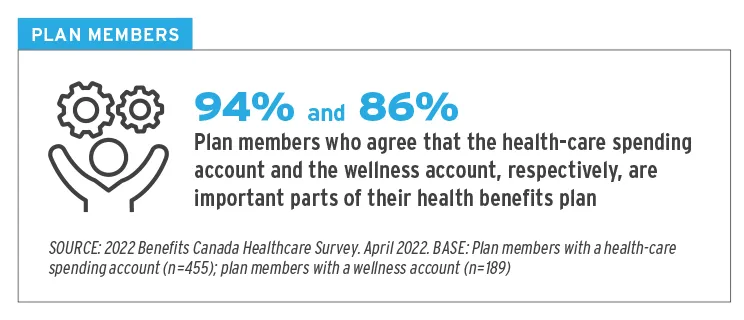 4. Views on Hybrid and Remote Work
The people have spoken, and about half of us agree (employees and employers alike) that some form of hybrid work will be the norm going forward. There is a discrepancy between the percentage of employees who would prefer to remain working remotely and employers who anticipate allowing this.
This could change in the future however, as disgruntled remote employees returning to the office amidst a labour shortage could influence these decisions.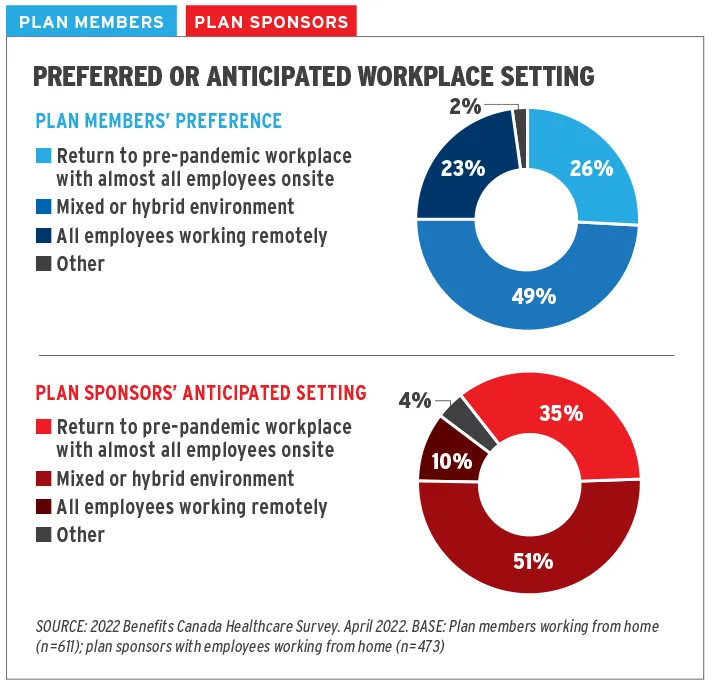 Another interesting phenomenon is the discord between how satisfied remote employees are with working from home, and the feelings of disconnection from peers and colleagues. While great strides have been made to curb this disconnect, it is obvious that so far, we have not found a substitute for in-person connections.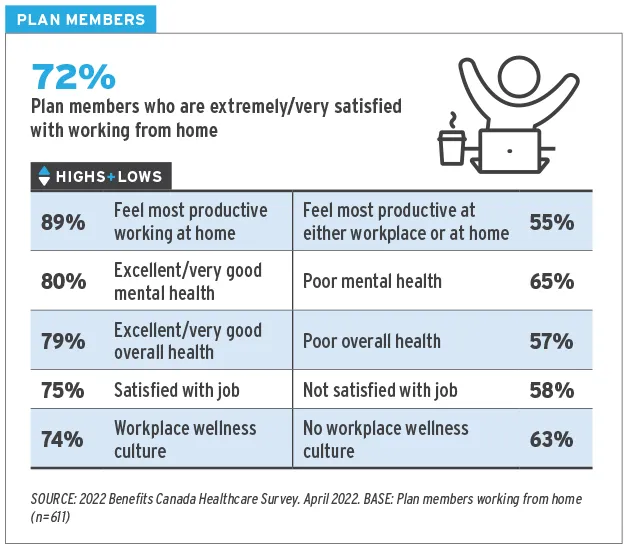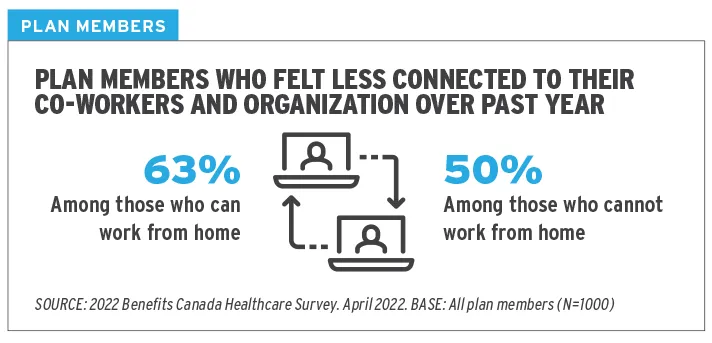 It should also be noted that employees with higher job satisfaction and higher mental and overall health also felt better about working remote. Having a workplace culture that promotes wellness also improved remote employees' satisfaction. The most satisfied were those who felt the most productive at home.
So, how do employees and employers feel about productivity in this changing workplace?
Overall, plan sponsors' and plan members' sentiments have aligned. Both parties believe that employees are more productive working from home than anywhere else, although it is a close second for being on-site. Less than a third of plan sponsors, and less than a quarter of employees, believe employee productivity is not affected by where they work.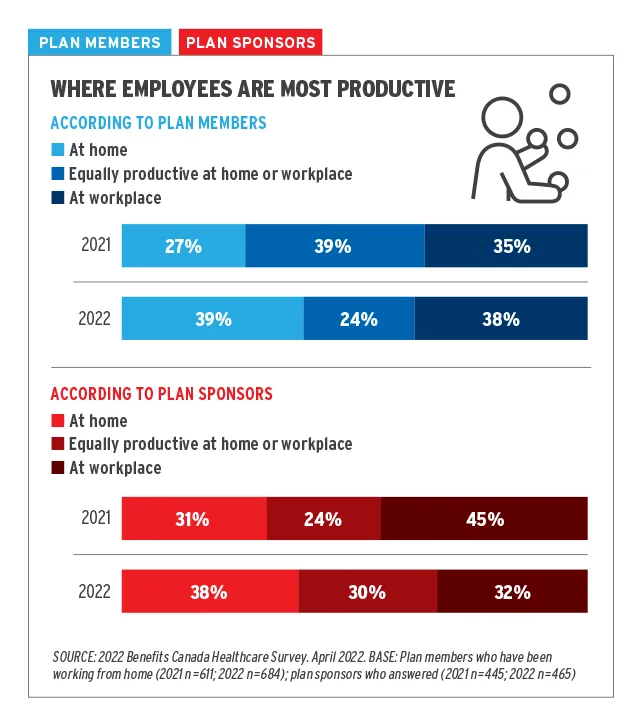 5. Mental Health and Wellness Support
The mental health of Canadians continues to suffer. And although employers have offerings such as Employee Assistance Programs, internet-based Cognitive Behavioural Therapy (iCBT) platforms, and psychologist coverage, employees still aren't getting the care they need. 77% of employees feel the help they get from their employer to manage their mental health is only somewhat or not effective.
It's no surprise that employees whose workplaces have no mental health support, or ones that have no wellness culture, feel even less taken care of.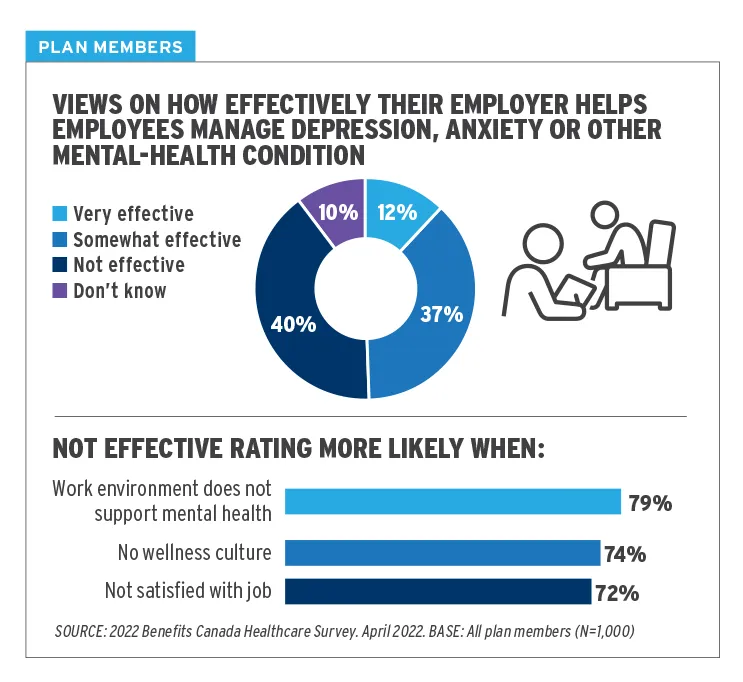 That's not to say that plan sponsors haven't been upping their game. In fact, 58% have training for managers to deal with mental health issues in the workplace. This includes how to recognize signs of stress, anxiety and depression, and how to approach people.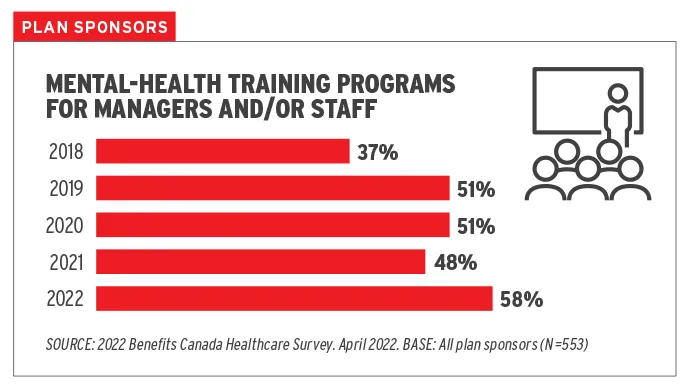 However, less than a quarter of employers have increased their spending on counselling. Although this does not sound like much, when employees were asked what they would like to do more of in the future to combat health conditions, only 17% answered they would like to go to counselling.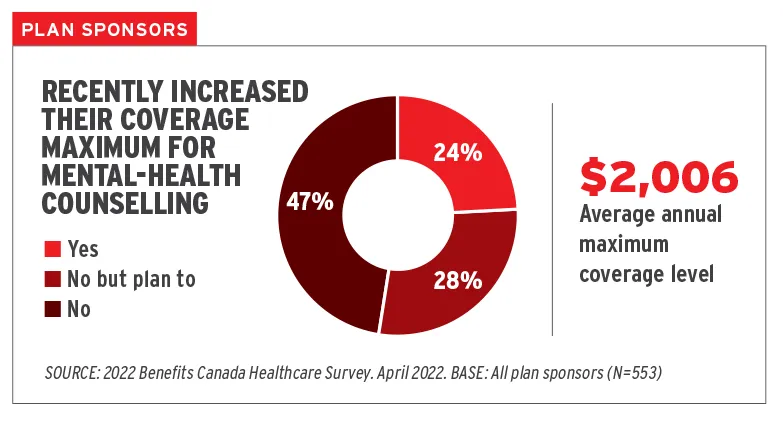 We believe that employers have put more of their resources towards Employee Assistance Programs instead, with 42% of employers now offering them. Our own data showed that in 2019, only 12% were offering this type of program, so you can clearly see plan sponsors' commitment to their employees' mental health.
6. Virtual Care is a Success
A whopping 75% of Plan Members with access to virtual care said the plan meets their needs compared to only 52% of those with no access to virtual care. What does this mean? Employers should highly consider adding this benefit. A lot of extended health care plans already have a built-in option to add this type of coverage. And Health Care Spending Accounts will cover virtual doctor visits unless otherwise stated.
Tip: Some provincial health plans provide free virtual care with limitations.
Virtual Healthcare: Telehealth Services to Use During COVID-19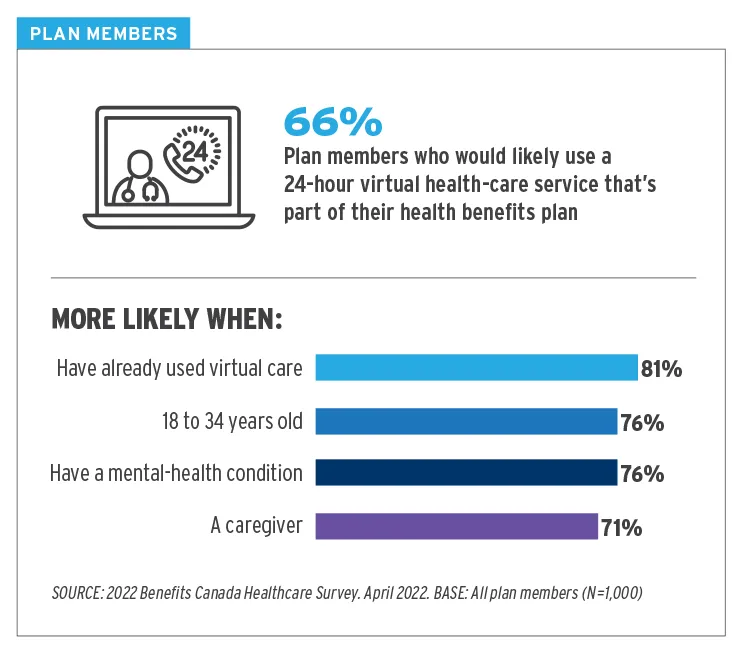 What's more, 66% of employees say they will use the service if provided. That number increases significantly among those who have used a virtual care service previously, younger workers, and those with mental health conditions or caregiving responsibilities. And since virtual care helps with absenteeism and work-life balance, it's a win-win for everyone.
Canadians have always valued their employer sponsored health benefits plans. And the results of this year's survey continue to tell that story. In fact, with all of the discussions surrounding mental health wellness, and work-life balance, employees' expectations of what their employers should be responsible for have grown.