Back
The Tight Labour Market in Canada and How Employers Can Stay Competitive
By: Benefits by Design | Tuesday May 10, 2022
Updated : Monday August 21, 2023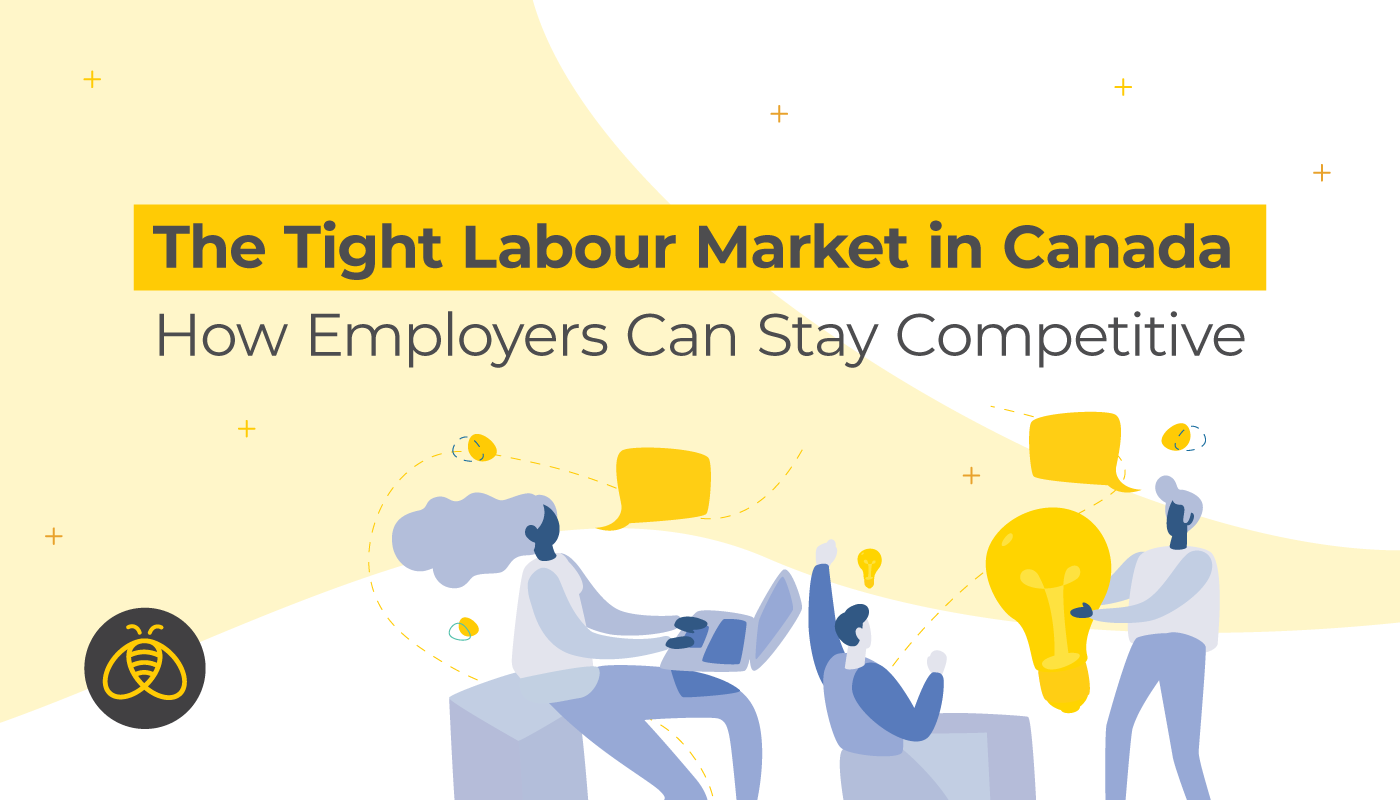 The tight labour market in Canada has created a candidate's market for employees who are seeking opportunities. As employers navigate their recruiting and retention strategies, it's important to consider the changing mindset of employees. The era of the company man is officially coming to an end, and businesses need to adapt if they want to keep their employees happy.
The Tight Labour Market in Canada
Employees feel more empowered of late to ask for what they want and deserve from an employer. The shifting dynamics of the employer/employee relationship can be attributed in part to the tight labour market we find ourselves in.
By the Numbers
We thought we'd take a break from the often cited unemployment rate, which does not take into account those who are going to school or stay-at-home parents and caregivers. Instead, we decided to look at the job boards to see how many jobs need filling.
To get a more accurate idea of the labour market, we looked at the number of jobs being posted versus the number of people searching for jobs.
As of the end of March 2022, there are approximately 731,905 job openings available in Canada, and 1,100, 200 seeking employment, a gap that continues to decrease each month. Add to this the fact that not all candidates will be qualified for the available jobs, and the gap is even smaller than it appears.
Is the Great Resignation a Factor in the Tight Labour Market?
The onset of COVID-19 sent many people running for the hills – or more accurately – sent them to work from home. The flexibility of remote work and the ongoing lifting of the mental health stigma saw employees really take a good look at what they wanted out of their careers. And what they wanted out of life. This idea that people were re-evaluating their careers and either changing them or quitting altogether has come to be known as the Great Resignation.
While it has certainly been a hot topic, it is more anecdotal than reality here in the Great White North. The actuality of the numbers shows that the job switching rate is basically the same as it was before the pandemic. This shows that people are not changing careers any more frequently than they did prior to the onset of COVID-19.
Changing Social Environment
Employees are prioritising work-life-balance. The relationship between employees and employers is evolving. And with that, the reasons for employee loyalty have changed.
The term 'company man' is used to describe life-long loyalty to a company. This type of loyalty has significantly diminished and is not as widespread as it once was. Employees are no longer interested in staying at a company year over year for the steady but small raises, the pension, and the security of a job.
Instead, they are staying with their company for wholistic reasons, including the following:
Alignment of company values
Flexible work schedules such as the four-day work week, or working remote
A vibrant and thriving company culture
Support for upskilling and career growth
Staying Competitive in the Tight Labour Market
A tight labour market, regardless of the reason, means that employers must compete for the limited available workers.
In order to succeed, employers need to set themselves apart from their counterparts or competitors looking to hire from the same pool of talent.  
Evolving Your Employee Benefits Strategy to Attract Top Talent
1. Employee Compensation
Money talks! According to a Robert Half Salary Guide Survey, 50% of employees feel they are underpaid. Which means it's a good idea to make sure you are offering a competitive salary to your prospects. But it won't do you any good if you manage to hire new employees if your tenured employees start leaving.
In fact, 57% of employers are planning on raising salaries for tenured employees this year. Employers should consistently audit their payroll to ensure that all current employees are also receiving competitive compensation. If they feel they are underpaid, employees could start looking elsewhere.
How to Create a Total Compensation Statement (And Why You Should)
2. Flexibility and Work-life-balance
Employers are starting to recognize how important this is. Employees want flexibility and understanding that their personal lives sometimes take them away from work at various and unpredictable times.
The increase in remote and hybrid work that appears to be here to stay (including at our very own BBD) also gives employees more flexibility and freedom to choose when and where they work. Employers that are too rigid may soon find themselves losing workers to employers who understand this need.
3. Group Insurance
Group Employee Benefits are an extremely common offering in Canada. This comes as no surprise, given the fact that 76% of employees would not agree to a job that did not include a health benefit.
Download the Infographic: Why You Should Offer Employee Benefits
Our own data shows what benefits employers are providing for their employees, and in what percentage: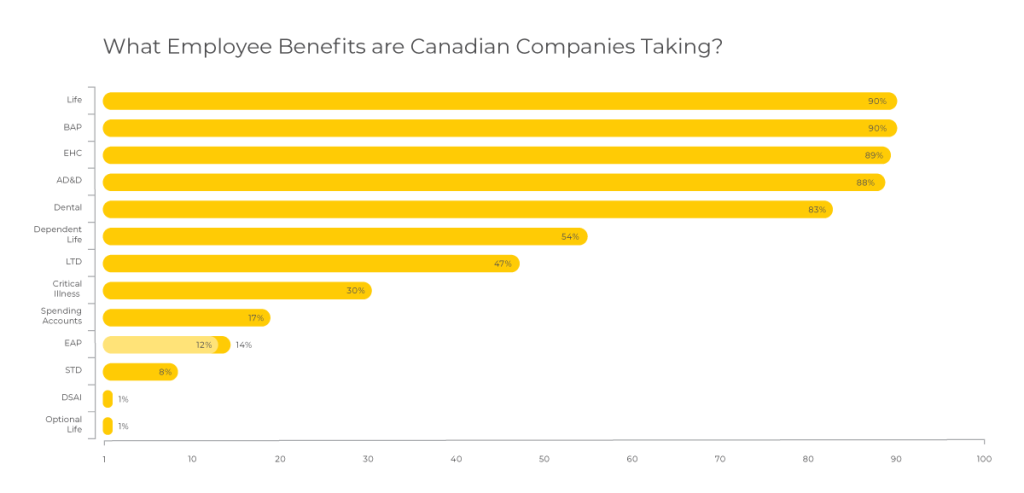 [Free Download] Using Industry Benchmarking to Create Competitive Benefits Plans
4. Mental Wellness Support
The decrease in the stigma surrounding mental health has allowed many people to feel comfortable asking for help. Which means giving this type of support can be a key to the war for talent.
It can also help ensure that current and new employees are able to deal with their personal issues before they get to the point where they need to take time off work or leave their job altogether.
Both an Employee Assistance Program as well as the psychological benefit within the extended health benefit can offer this type of coverage.
5. Financial Wellness Support
Employees in Canada are putting more and more emphasis on their financial readiness. In order to aid them, employers can offer benefits such as RRSP matching, student bursaries, 6. Company Culture and Social Wellness

Having a thriving company culture is as important as ever! Employees want to feel included and nurtured by their colleagues and leadership. And they want to laugh and have fun while being trusted to do their work.

Employee appreciation and recognition are also essential aspects of company culture. Organizing indoor and outdoor group activities, lunches, or hosting virtual team building games can help maintain a sense of comradery among coworkers.
6 Dos and Don'ts for Building a Successful Workplace Culture
Having a great company culture and total compensation package can set you apart when it comes to keeping and attracting employees. Employees are realizing they don't have to stay at a place that makes them unhappy, and a tight labour market provides a chance for change. In the end, labour is people, and you must take care of your people if you want them to stick around.