Back
5 Ways BBD Makes Group Benefits Administration Easy
By: Benefits by Design | Tuesday January 4, 2022
Updated : Wednesday January 11, 2023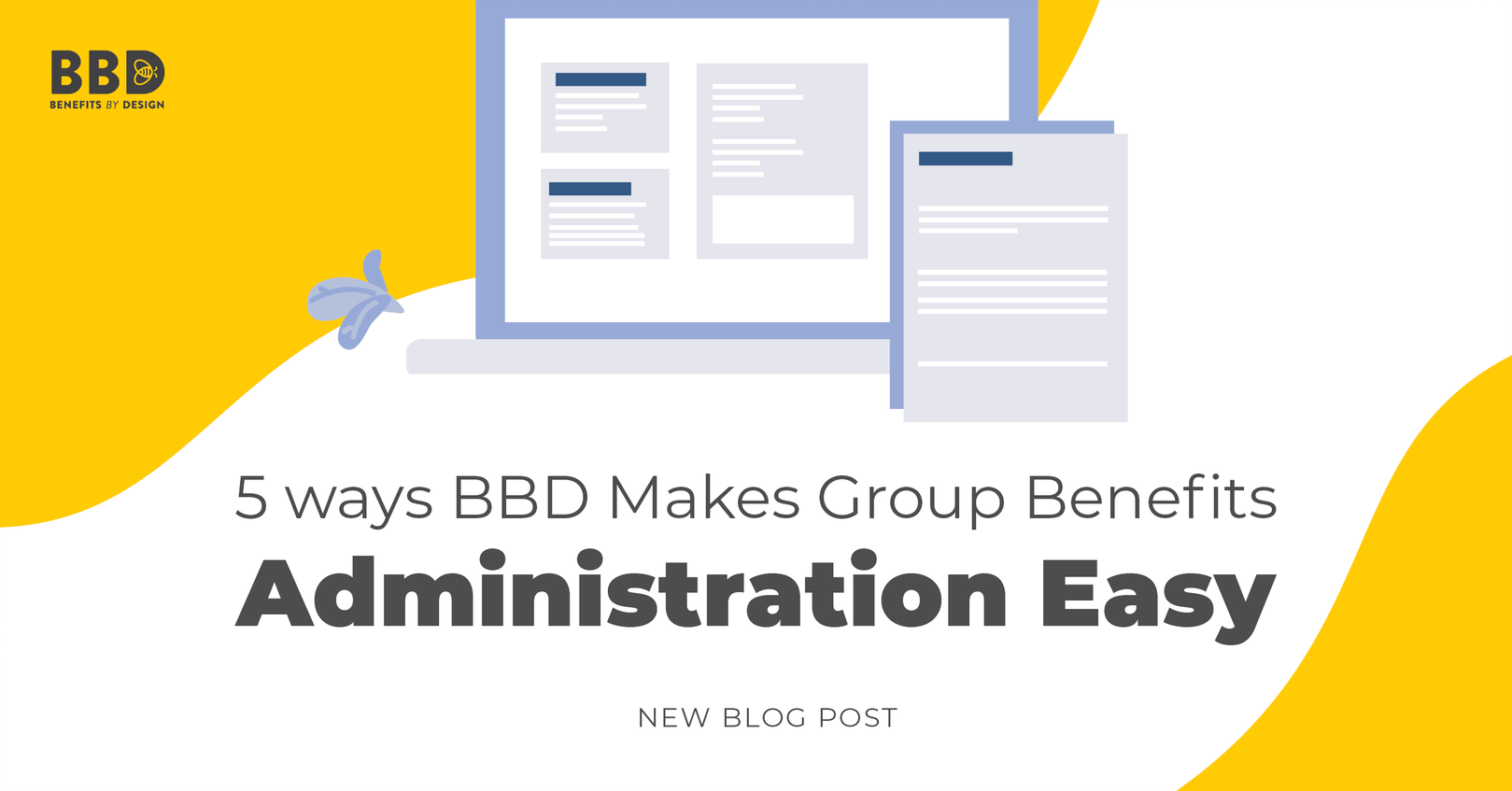 When it comes to group benefits administration, there are a lot of things to stay on top of. From enrollment and onboarding to salary updates, employee terminations, and everything in between, it can be a daunting task. That goes double for small businesses without dedicated Human Resources or Accounting departments where employees may be performing the duties of many different roles.
Roles, Duties, & Responsibilities of a Group Benefits Plan Administrator
That's why Benefits by Design (BBD) Inc. is here with a bunch of ways to make benefits administration easy! Let's take a closer look.
Plan Administrator Guide

The Plan Administrator Guide is the essential tool for all BBD Plan Administrators! The Guide covers everything you need to know in order to become a master of group benefits administration, including:
Adding or removing an employee from the plan
Updating employee information
Excess and conversion coverage
Avoiding late applicants
Plan Administrator liabilities and essential information
And more!
Although it is an essential resource for BBD Plan Administrators, the information contained within is helpful to Plan Administrators of any Insurer!
Plan Administrator Experience Page

The Plan Administrator Experience is your one-stop-shop for guidance when it comes to administering your benefits plan. We provide vital information on the role of a benefits administrator. We also explain the tasks and functions that will be required of the Plan Administrator.
There is information on invoicing of premiums, how group benefits renewals work, and a ton of other benefits administration information. This is also where you can find downloadable resources, including the Plan Administrator Guide, or login to Nomad, our secure online benefits administration portal.
Nomad

Nomad is our secure, online benefits administration portal. It's where you'll process all of your employee information updates, download invoices and reports, and more!
Nomad is simple and easy-to-use, allowing Plan Administrators new to the role or new to BBD to pick it up and get started immediately! Through Nomad, you'll be able to perform the essential day-to-day tasks of a Plan Administrator all in one place, including:
Adding or removing an employee from the plan
Download invoices
Run reports on claims experience or employee cost breakdowns
Download your Employee Benefits Booklet or Schedule of Benefits
Update company information
Nomad interacts in real-time with our administration systems, so changes you make are received by us right away. We provide a system of checks to ensure that the updates are correct and in-line with regulations. If you end up making a mistake for any reason, simply send us an email and we can make the correction. We want to ensure all information is accurate.
You can learn more about Nomad from this brief tutorial on our Youtube channel!
Nomad: Plan Administrator Tutorial

Resource Centre

The Resource Centre on the BBD Website is full of many educational materials, like e-books, case studies, infographics, posters, information sheets, and more. As an example, why not take a look at the Benefits Communication Guide, available in the resource centre?
You can sort by type of resource, or by audience. Or use the search function to find information on the exact topic you are looking for – including more great blog posts like this one!
Blog Subscription

At BBD, we aim to make information both understandable and accessible. We publish a new blog post weekly, covering industry topics relevant to Plan Administrators, employers, and Advisors.
You can subscribe to get the weekly update delivered right to your inbox by clicking below!
We break down our blog posts into four categories for your convenience: Benefits, News, Wellness, and Workplace so you can easily search for broader topics. Or use our search function when you are looking for something specific. Either way, you can't go wrong by subscribing to the BBD Blog!