Back
Insurance Pooling – How Canadian insurers handle claims above the pooling threshold 
By: Benefits by Design | Tuesday October 10, 2023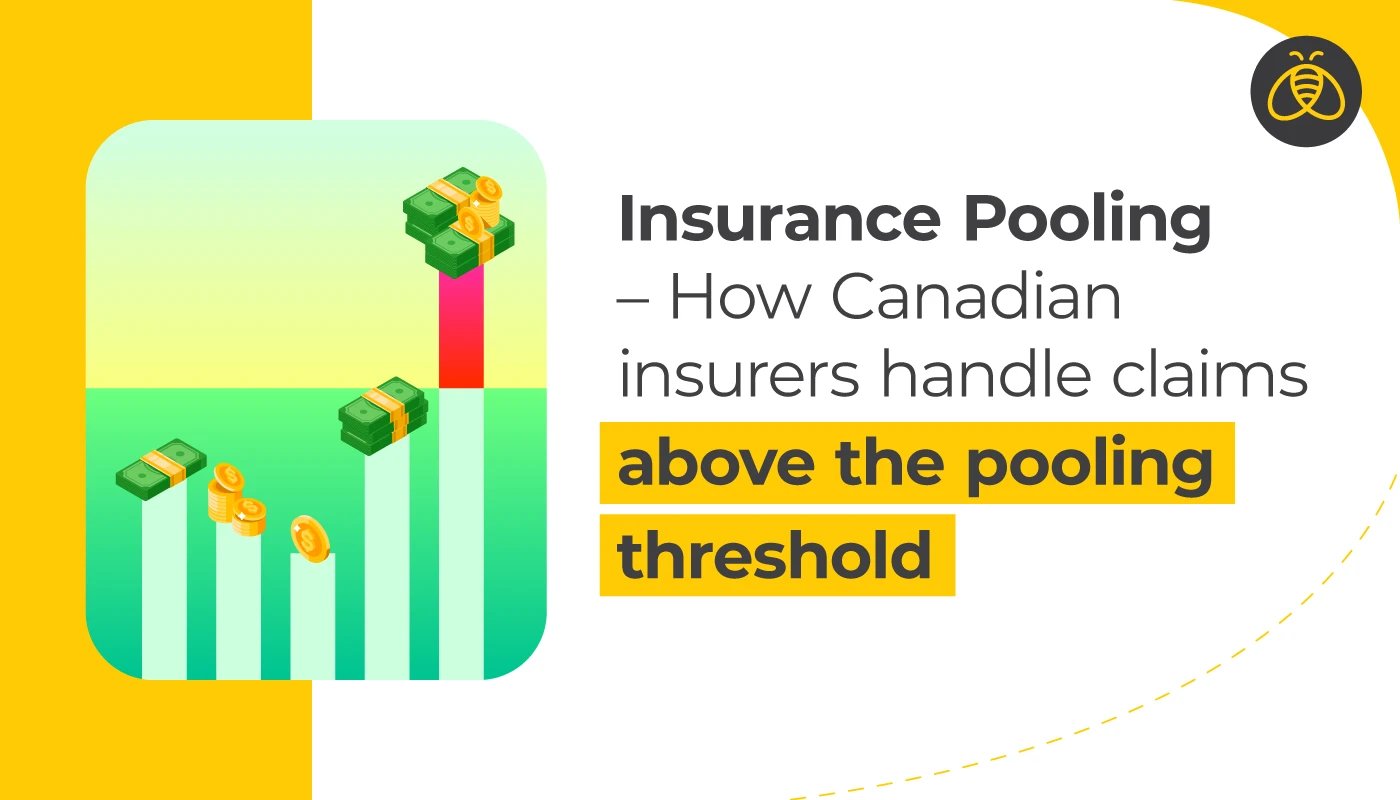 What happens when an employee makes a large claim to their benefits plan? How do insurers cover the cost of the claim? The answer is insurance pooling, otherwise known as stop loss. But some claims are so large that even the insurance company needs to add the claim to a pool.
In order to explain how insurers handle these high-cost claims themselves, we'll first need to understand how pooling and stop loss work.
Insurance pooling explanation
Insurance pooling is what allows insurance companies to take on risk. For example, the risk of someone needing emergency travel care, or a semi-private hospital room – these would be covered by your extended health care (EHC). Or the risk of accidental injury causing bodily harm or disability – these would be covered under your accidental death and dismemberment (AD&D) insurance, or disability insurance, or both.
The fact that the risk of the above claims is unknown means that insurers must account for the variability, or possibility of them occurring. This risk variability for claims is reduced when spread out across more plan members. Insurance pooling also allows for higher risk individuals to have coverage if grouped with less risky individuals.
Group Benefits Pooling Explained [FREE Infographic Download] (bbd.ca)
Insurance pooling within employee benefits
There are different types of insurance pooling within employee benefits:
Fully pooled plans – the groups' entire benefits plan is pooled. Premiums and claims of a group's plan are pooled with other groups with the same plan. This is best for small groups, as claims activity and premiums of participating groups will be spread across the whole pool.
Pooled benefits – pooling by category of insurance coverage. The more predictable benefits are not pooled, while high variability benefits are pooled. This would include benefits such as life insurance, dependent life insurance, AD&D, Critical Illness (CI) and long-term disability (LTD).
Pooled claims – pooling by category of claims. This is also known as stop loss coverage (more on that below). It allows plan sponsors to avoid the extreme consequences of high-cost claims for certain services that are slightly more predictable but are riskier to have fall under the claims experience.
What is Stop Loss and How Does It Keep Benefits Plans Sustainable? (bbd.ca)
Stop loss insurance pooling
Stop loss is a type of insurance pooling that protects groups against specific, unpredictable high-cost claims that are above a certain threshold. Insurance companies charge a percentage to remove some of the financial liability from the group. In other words, stop loss provides protection for plan sponsors whereby claims that exceed a specified dollar amount will be assumed by the insurer, subject to a maximum. This helps keep premiums sustainable.
Insurers usually provide a certain level of flexibility when it comes to a group's stop loss threshold. The most common options are:
First dollar (most travel plans have this level of pooling)
$10,000
$12,500
$15,000
Etc.
All claims above the threshold will be pooled (removed from the group's claims experience).
The lower the threshold, the more risk for the insurer and less risk for the employer, which means the pooling fees will be higher. Conversely, a higher threshold equals less risk for the insurer and more risk for the employer, which means the pooling fees are lower.
Let's look at an example where the employer has set up a $10,000 stop loss threshold for health claims, and a first dollar threshold for travel claims.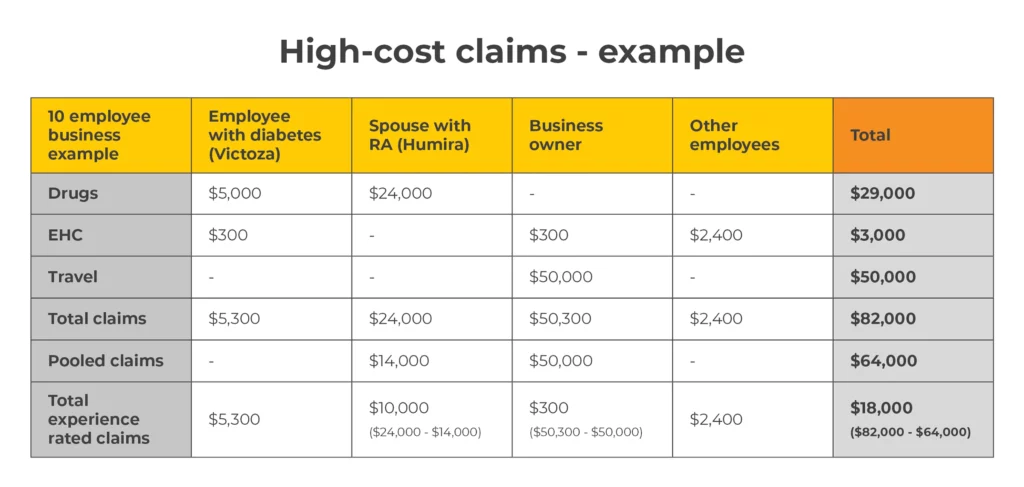 As you can see from the image above, without stop loss pooling, the employer would have $82,000 worth of claims counting towards their claims experience at renewal. This is completely unsustainable. When stop loss is applied, the group only has $18,000 worth of claims that count towards their claims experience. This is much more sustainable for a benefits plan with just 10 employees.
EP3 standard pooling
Extended policy protection plan – more commonly known as EP3 – standard is the insurer's pool for drug claims. Insurers place all large drug claim amounts exceeding the pooling threshold into their own self-administered pool.  
There are several limitations, as well as customizations that are allowed:
Insurers can set their own pooling pricing/fees. 
The insurer cannot set their fees based on the pooled drug claims of each group.
On the other hand, the insurer can set their fees based on the entire experience of their EP3 pool. (Along with other non-client experience criteria.)
The insurer can offer different pooling thresholds so plan sponsors can choose. 
Co-payments and deductibles can be set (subject to a $1,100 maximum for deductibles)
So, what do insurance companies do when claims that hit the EP3 pool exceed a certain amount? These claims, in turn, are put into an industry pool. 
CDIPC (industry pool)
The Canadian Drug Insurance Pooling Corporation (CDIPC) is a non-profit organization that was created to help facilitate affordable drug coverage for fully insured extended drug plans. These are plans that charge a premium and provide coverage for prescriptions that are not covered by the public system. They include both individual and group plans.
In order to be a member, the insurer must be part of the Canadian Life Health Insurance Association (CLHIA) and be licensed to issue fully insured group health benefits plans.
Now for the good part. When a claim exceeds $32,500, anything above that amount is placed in the CDIPC pool. By doing this, we can keep the EP3 pool sustainable, which means the pooling fees that are charged to plan sponsors can remain reasonable.
"By sharing the insured cost of repeating high and very high-cost drugs, CDIPC's member companies help maintain the viability of the insurance programs for employers and their employees. In so doing, they allow the employees' drug coverage to continue so that their treatments can continue." – CDIPC
Conclusion
Insurance pooling gives clients better protection against high-cost claims. The pool allows the insurer to offload a portion of high claims from the group's claims experience, in exchange for pooling fees. Insurance pooling doesn't change the probability of a covered event occurring, it simply offers protection. And if the claims get really high, the insurers are also protected by a pool for insurance companies via the industry pooling arrangements.