Back
5 Reasons to Use the BBD Starter Plan for Your First Employee Benefits Plan
By: Benefits by Design | Tuesday January 25, 2022
Updated : Tuesday July 26, 2022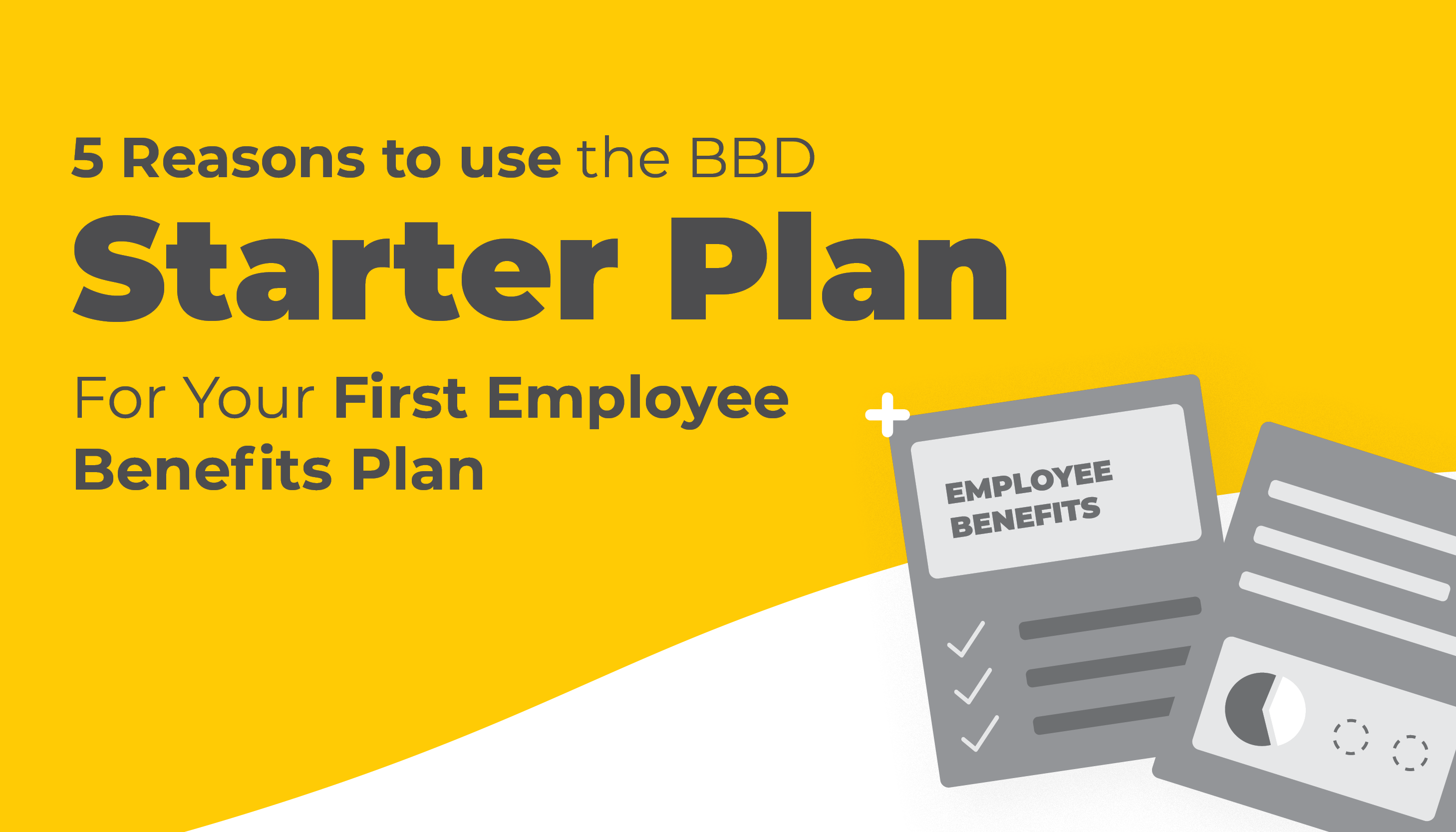 We believe that the Benefits by Design (BBD) Inc. Starter Plan is the best way to get started in group benefits — and we're going to prove it. It's simple, cost-effective, easy to understand, and above all, includes the coverage most sought-after by employers and employees alike.
Here are five big reasons for employers to begin their employee benefits journey with the BBD Starter Plan.
#1. Includes Benefits Coverage Employees Value Most
Firstly, when you think of employee benefits, it's likely that Health and Dental Insurance feature prominently in your imaginary benefits plan. There's a reason that's the case — employees want the coverage!
The BBD Starter Plan includes the most common benefits small businesses' offer to their employees, including:
When you choose the BBD Starter Plan, you're choosing affordable coverage that provides benefits working Canadians want the most. Don't see coverage you're looking for listed above? Don't worry, you can add to the BBD Starter Plan very easily!
[Handbook] 5 of the Most Common Small Business Employee Benefits
#2. A Totally Customizable Employee Benefits Plan
The BBD Starter Plan was created with Canadian small businesses in mind and features the most common benefits taken by those employers. However, after more than twenty years in the industry, we know that not all business needs are alike. That's why the BBD Starter Plan is created to be exactly that — a start.
For instance, employers can freely add coverage to the plan with no hassle, allowing them to create an employee benefits plan that best suits the needs of their business and their employees. Popular add-ons to the Starter Plan include:
#3. Get Plan Pricing and a Comprehensive Quote in 24 Hours
One of the most frequently asked questions by employers looking at a benefits plan is, "How much does it cost?" We created the BBD Starter Plan with this question in mind, which is why the plan pricing is transparent and available on the first page of the document.
You can also get a full, comprehensive quote in 24-48 hours that includes plan pricing. When it comes to group benefits, quoting can be tricky (there's so many factors to determine accuracy), and timelines can be lengthy. In addition, with the Starter Plan, we're able to turn around quotes very quickly with only the basic employee information. As a result, employers get the answers they need, sooner.
#4. Created Using Real Employer Data
We created the BBD Starter Plan to be an excellent place for a Canadian small business to start their journey in benefits. So we combed through our own data and compiled the Starter Plan based on real employers across the country.
Here's what we found: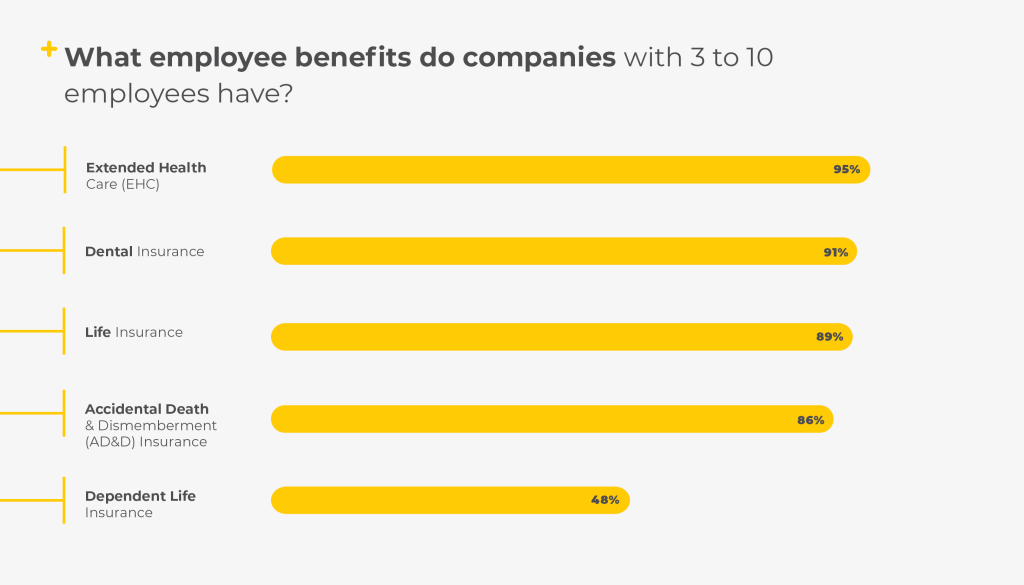 And it's no coincidence that all five of those popular employee benefits make up the meat of the BBD Starter Plan. Knowing what other similarly-sized companies are offering helps employers keep their benefits offerings competitive.
#5. An Employee Benefits Plan Created for Small Businesses
In short, the BBD Starter Plan was created specifically with small businesses in mind, so it's an excellent first step for employers getting started with employee benefits.
It combines the most frequently sought-after benefits by employees, it's affordable and offers transparent pricing, it's easy to implement or customize, and employers can receive complete, competitive quotes within 24-48 hours!