Back
Industries with the Best Employee Benefits Plans 
By: Benefits by Design | Tuesday September 5, 2023
Updated : Friday September 1, 2023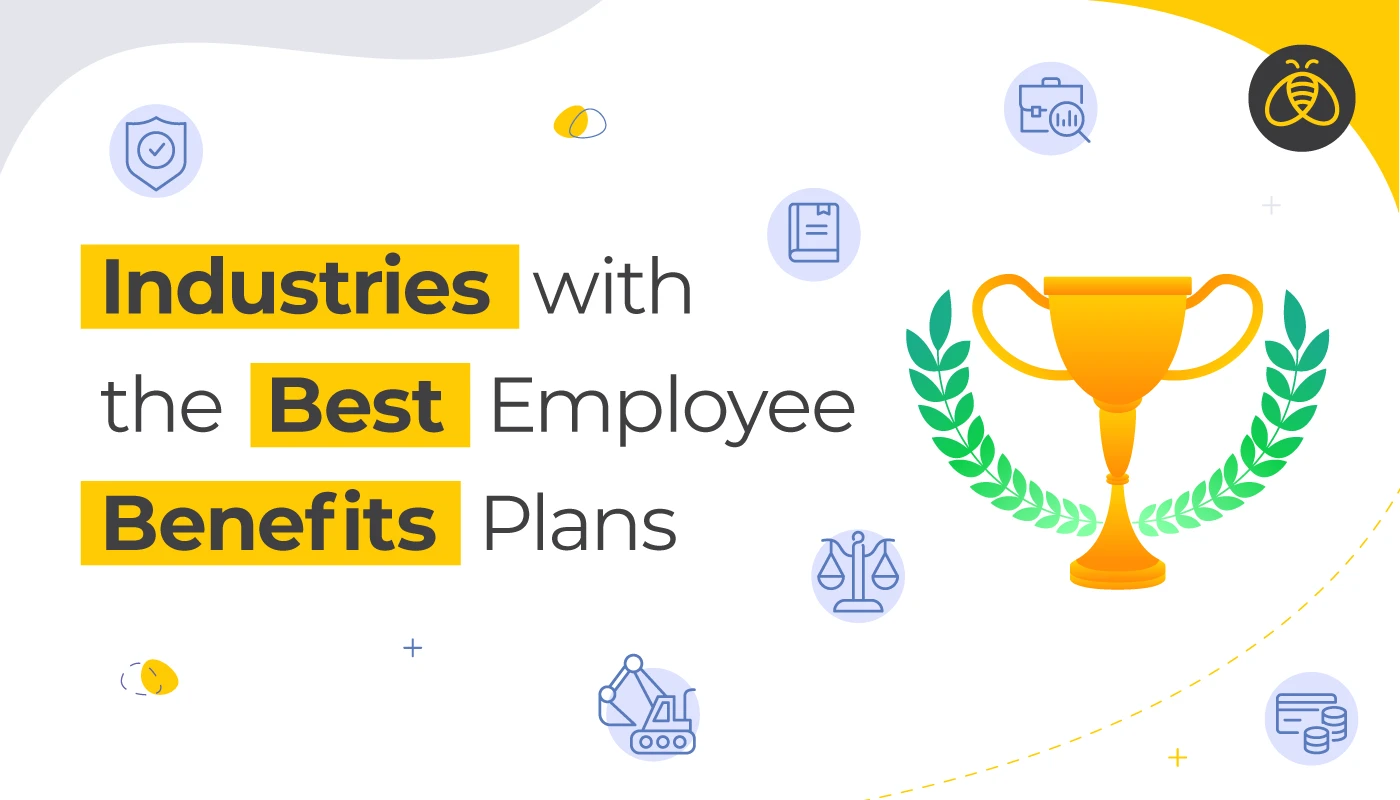 Employee benefits plans can help employers care for their employees' health, wealth and happiness. And that is key to encouraging higher employee engagement and productivity. Employee benefits also help lower absenteeism and presenteeism and support company culture. But what industries offer the best employee benefits?
Industries with the best employee benefits plans overall
We used data from approximately 4,600 group clients of Benefits by Design to find out which industries offered their employees the most robust group insurance coverage. See below for our methodology on how we rated these benefits.
According to our numbers, the following is a list of industries in order with the best employee benefits (out of 5 stars):
Finance and insurance – 3.82 
Educational services – 3.81 
Construction – 3.80 
Professional, scientific and technical services/information technology (IT) – 3.79 
Retail trade – 3.78 
Health care and social assistance – 3.77 
Manufacturing – 3.71 
Accommodation and food services – 3.66 
Administrative and support, waste management and remediation services – 3.38 
We found it interesting that the IT sector came in fourth. However, when looking closely at the numbers, our top six industries were quite close together.
We were somewhat surprised to see that retail trade ranked above the health care and social assistance industries. It just goes to show that retail employers are stepping up and taking care of their employees.
Industry standouts by specific benefit line
When it comes to the best employee benefits, some employees may be looking for specific coverage. So, we took a closer look at our data to determine which industries were leading the charge when it comes to each type of benefit.
Comparing our results with other studies
These numbers include BBD's data, a survey conducted by GlassDoor, as well as a Smartest Dollar study. The latter study looked at more industries than the others, so there are a few discrepancies, and we chose to leave transportation and warehousing, as well as real estate off the list. We also combined Professional, scientific and technical services with information technology, as they were right after one another, and in the other two studies they were combined.
The best employee benefits plans belong to the finance and insurance industries in all three studies. So if you're an employer in this industry, it's a good idea to have a top-notch benefits plan if you want to retain and attract top talent. 
How to Win the War for Talent with These 5 Employee Benefits & Perks
Surprisingly, IT came in lower among the BBD data compared to the other studies. We believe this is because they took into account other employee benefits and perks aside from group insurance.
Accommodation and food services ranked consistently near the bottom, as did business services. We found throughout the studies that jobs with lower rates of pay tended to also have worse employee benefits.
Interestingly, the construction industry came in third place in our data, whereas the Smartest Dollar study ranked it much lower. Again, we think this has something to do with the other employee perks that were considered.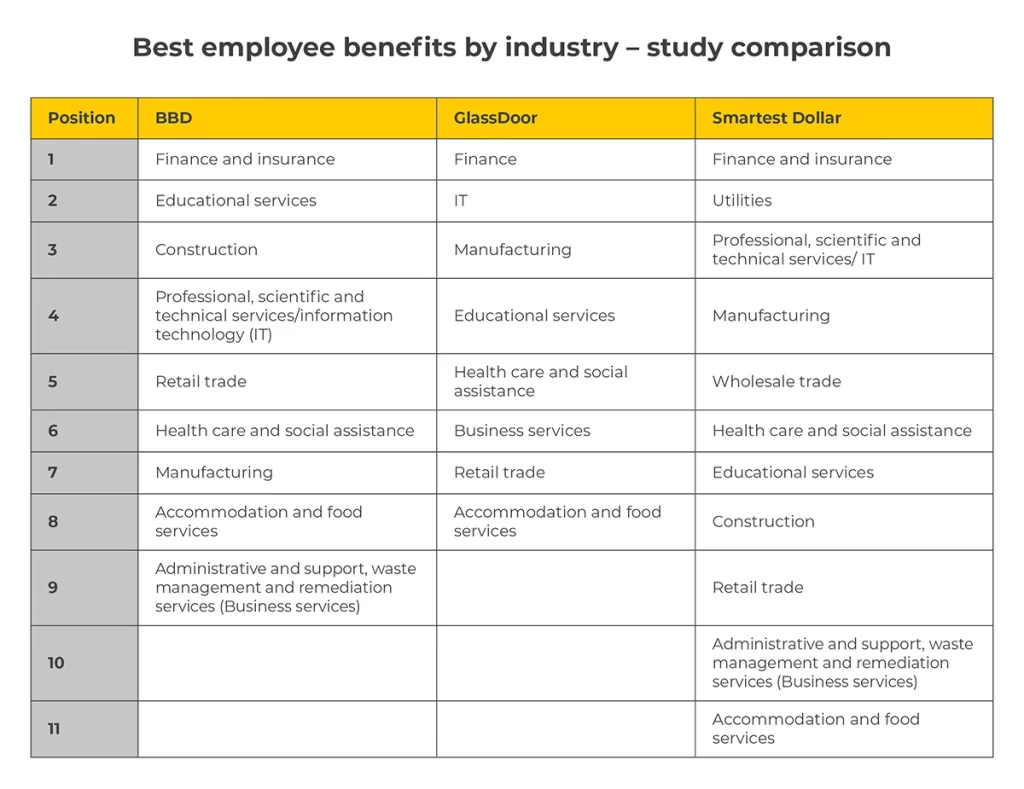 Evolving Your Employee Benefits Strategy to Attract Top Talent
Methodology 
We used proprietary data sourced from approximately 4,600 groups who have employee benefits with BBD. We only gave half weighting to STD, EAP, DSAI and Optional Life as these are more ancillary benefits and we wanted to ensure that the main benefits were of higher value in determining which industries have the best employee benefits plans.