Back
[Report] Health Care Spending Account (HCSA) Growth in 2023 
By: Benefits by Design | Tuesday June 27, 2023
Updated : Monday June 26, 2023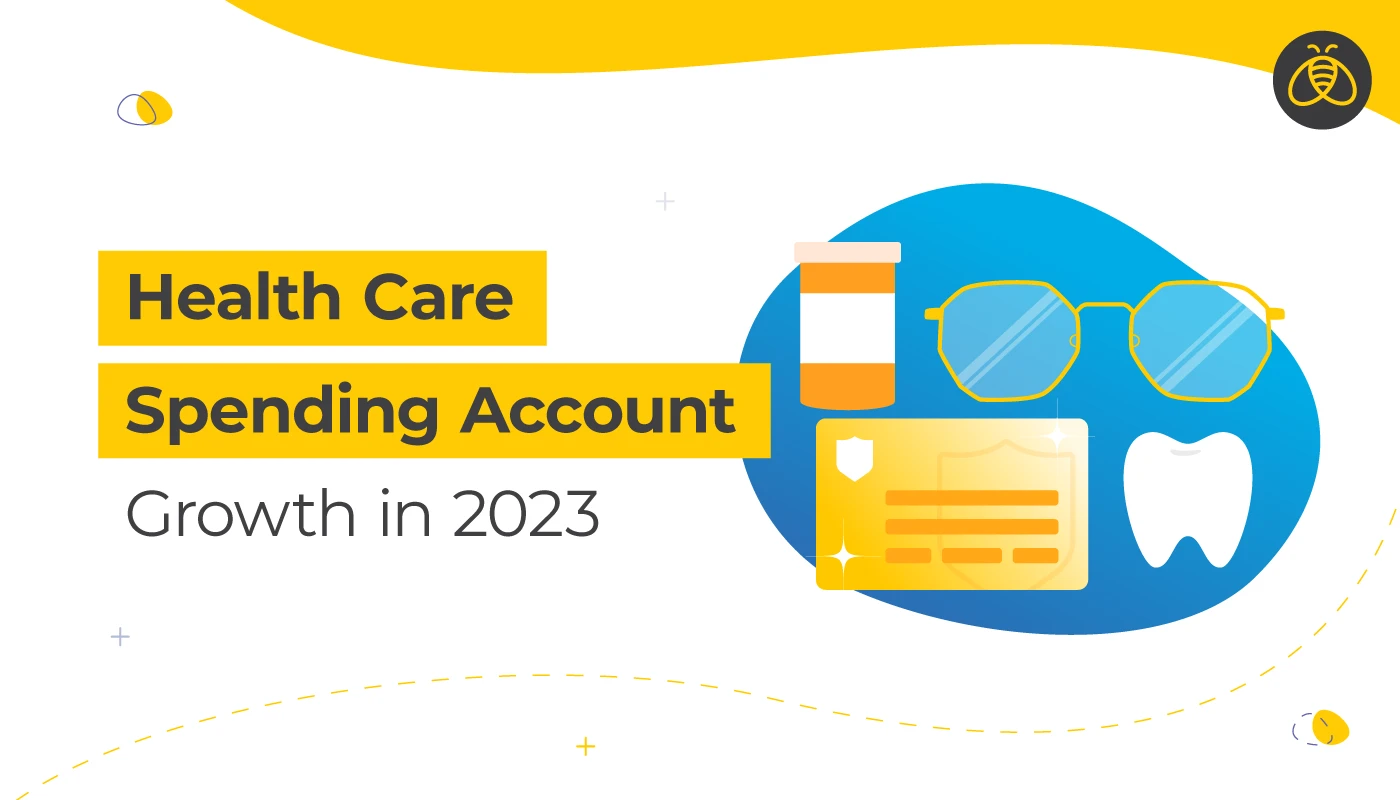 Health Care Spending Accounts (HCSA)'s have been on the rise since before the pandemic. Their popularity is due to multiple factors, as employers look for solutions to their staffing issues in the face of the labour shortage and inflation. We'll take a look at HCSA growth over the last few years.  
Download the 2023 Report: The state of health care spending accounts
HCSA Growth Over Time
HCSA's have been around for years, but they were mainly used as a "top-up" to traditional health and dental for executives and owners. These days, employers are searching for solutions to the ever-increasing cost of employee benefits. And given the continual rise in per capita healthcare costs, employees are looking for flexible benefits that can help them with these costs.  
Everything You Need to Know About Health Care Spending Accounts
By the Numbers
The 2022 Benefits Canada Health Care Survey found that HCSA growth rose by 17% from 2017 to 2022. This amounts to 48% of employers indicating they have a HCSA included in their benefits plan. And of those who do not have a HCSA, 40% are considering getting one.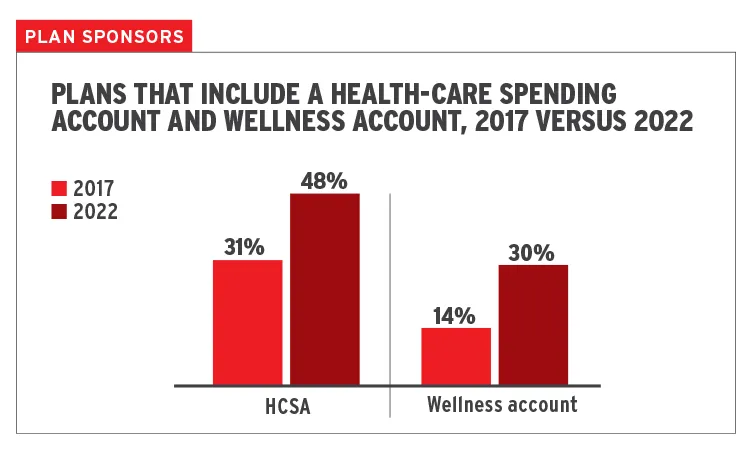 When we look at our own block of business, we see that 38% of our groups have a HCSA. Groups with fully-insured, traditional benefits make up 44% of that total number. This means that more than half of the groups we administer with an HCSA have no other benefits.
Why are HCSA's Growing?
So why have HCSA's exploded onto the employee benefits scene in recent years?
Rising Health Care Costs
Each year, Canadians spend more and more on their health care. In fact, in 2021, the average spend per person was $8,019. And with the rising cost of prescription drugs, employees are looking to their employers more and more to help with these expenses.  
Versatility
With multiple generations working side by side, different employees are bound to be at varying stages of life. Which means their priorities and needs are different. The flexibility of a HCSA allows all employees to utilize the benefits equally if needed.  
Cost of Benefits for Employees
A younger employee may not require vision care, prescription drugs, or paramedical services (for example). Therefore, paying for traditional health and dental premiums could be seen as a detractor rather than an attraction tool.  
With an HCSA, employees do not pay any premiums. They pay out of pocket for their expenses, and then are reimbursed the full amount – usually within a few business days.
Cost of Benefits for Employers
It's no secret that employers in Canada are struggling. Between inflation, the tight labour market, and increasing pressure to provide robust, competitive benefits plans, it's hard to catch a break.  
Enter HCSA's! They provide a clear budget for benefits. You choose what each employee is allocated, add administration and commission fees, and you have your total benefits spend for the year. The catch is, if all employees don't fully utilize their allocations, you might be spending less.
Then there is the uncertainty of insurance rates, and the possibility of an increase at renewal. HCSA's remove that concern. The only possible way your benefits budget will increase with a HCSA is if your business starts booming and you must hire more employees than anticipated. In which case, congratulations!  
What is a Benefits by Design (BBD) Inc. Standalone spending account?
Average Allocation Amount
So, how much are employers providing to their employees? Based on our findings, the average allotment was approximately $1,525. However, we dug a little deeper to see how this varied by company size.
We found that the smaller the group size, the higher the allotment amount. Companies with 1-5 lives are providing almost $2,500 per year, while companies with 26 lives or more are providing just over $1,000.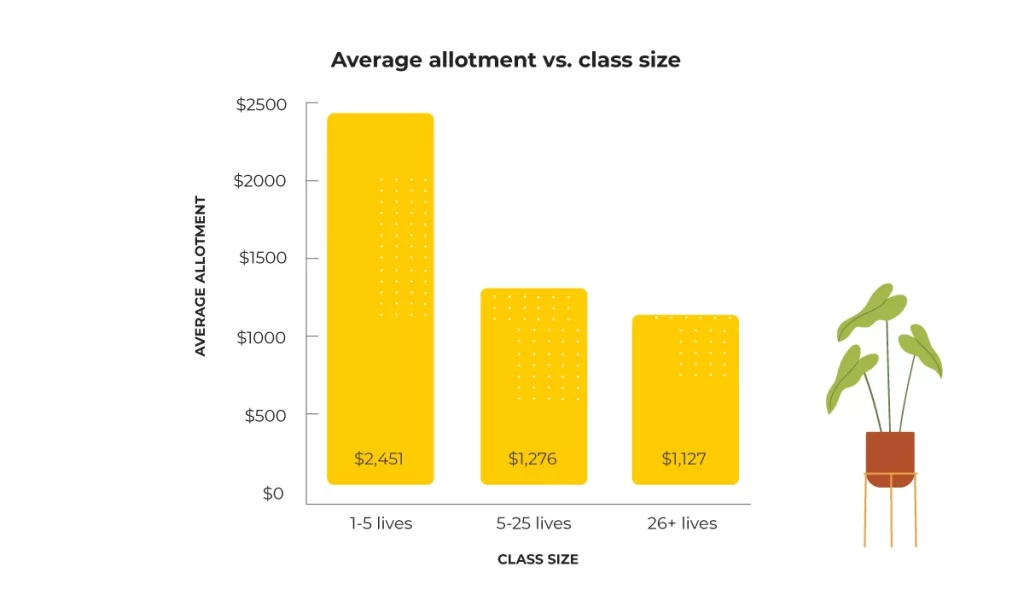 Conclusion
While employers have been embracing HCSA's due to the excellent advice they are receiving from their benefits advisors, the uptake in utilization by employees has been slower. As employees realize the potential or are provided HCSA's instead of traditional health and dental benefits, look to see higher utilization and therefore appreciation of this flexible, one-size-fits-almost-all benefit.