Back
Four Benefits of Using a Third-Party Administrator (TPA) 
By: Benefits by Design | Tuesday July 11, 2023
Updated : Monday July 10, 2023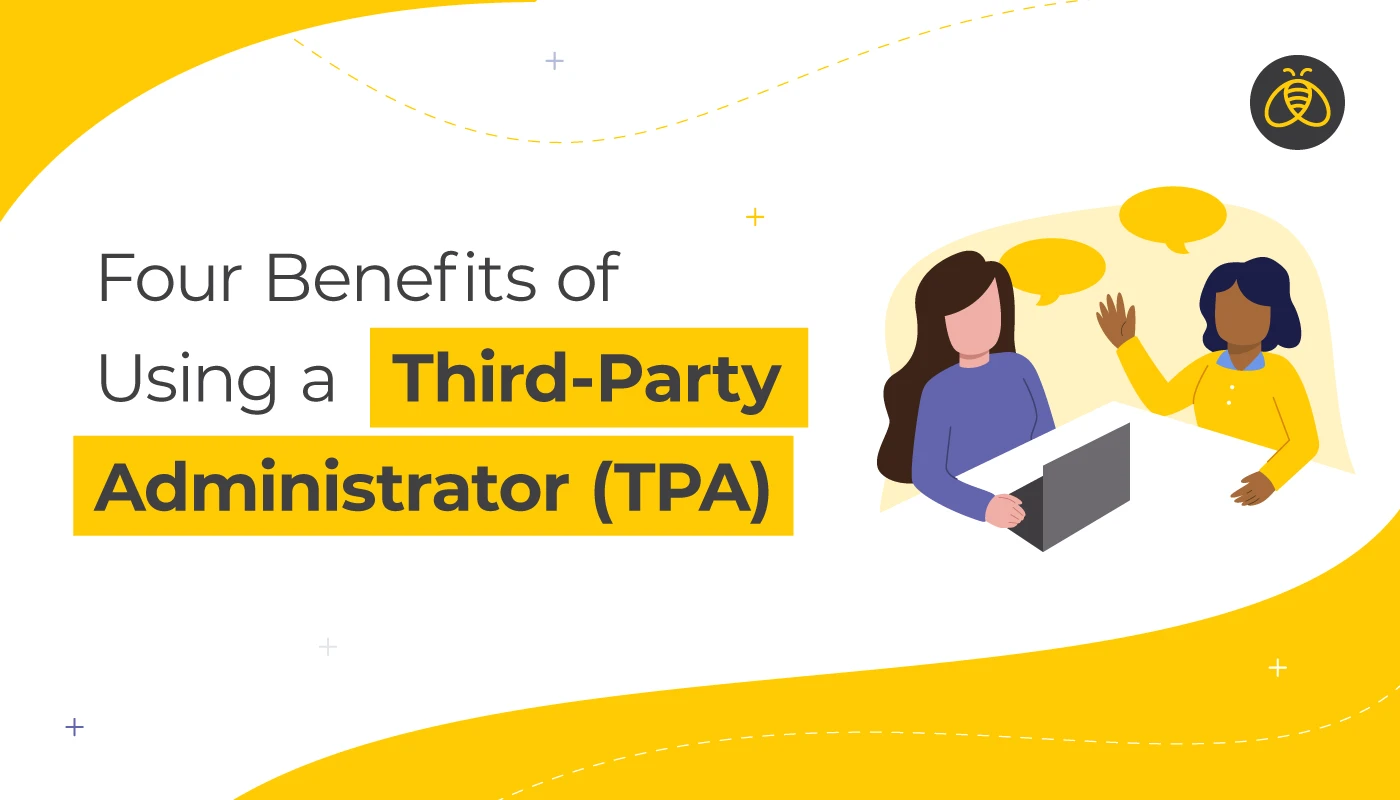 A third-party administrator (TPA) works with independent advisors and insurance carriers to provide easy to access and use employee benefits. Using a TPA has many advantages for the advisors, employers, and employees.  
What is a Third Party Administrator (TPA) And How Are They Different?
1. Access to Knowledge and Expertise 
A third-party administrator (TPA) knows about benefits administration because that's what we do. Which means that you get access to years and years of benefits knowledge and expertise. In fact, at Benefits by Design, we have a combined employee experience of over 750 years.
Easy Administration
Using a TPA gives you access to streamlined administrative processes. From implementing the plan to enrolling or terminating employees, companies can take advantage of the set-in-place systems and procedures to make it that much easier.
Answers to benefits questions
When you're a small company, your benefits plan administrator probably wears many hats – they might even be the owner. Which means they might not know everything about employee benefits. That's when using a TPA comes in handy. With our extensive experience, we can help you navigate the complexities of the group insurance industry.
2. Save Time and Money 
Who doesn't want to save time and money? Using a TPA can help you achieve just that! How? Let us count the ways.
Benefits Pooling
The value of benefits pooling is that it provides cheaper rates for everyone. It does this by grouping all plan members together and then using the collected premiums from everyone to pay out the smaller number of claims. This is especially important for benefits such as Life Insurance or Accidental Death and Dismemberment (AD&D) where the claim amount is very high in comparison to the rates. Using a TPA, smaller companies get access to similar group pooling rates as larger companies do.  
Group Benefits Pooling Explained [FREE Infographic Download]
Online enrollment and administration
Most TPA's, including yours truly, offer an online platform where plan administrators can easily manage their benefits plan. From online enrollment of new employees, to updating or terminating employees, invoicing, beneficiaries, and reports, there are usually a lot of great functions available. Plus, most updates happen in real time.   
10 Advantages to Online Benefits Administration Through Nomad
One invoice for multiple carriers
Companies that go directly to the insurance carriers via a broker are responsible for creating and ensuring accurate monthly invoices. And if they have different benefits with different insurance carriers, this means multiple invoices. Using a TPA means you get only one invoice each month, no matter how many different insurers are involved.
Downloading Your BBD Invoice Nomad Tutorial
Renewal and plan design support
When your benefits advisor works with a TPA, both the plan sponsor and the advisor get access to renewal support. With specialized reports and insights, a TPA can help employers understand how their benefits plan is being utilized by employees, and can assist with plan design changes and updates if necessary.
Benefits can be rated independently
"With many larger insurers, the benefits are packaged together. Removing one benefit may result in increased rates for the others or a need to requote the plan entirely." And if it is not sustainable, employers may be forced to market their plan even if they don't want to. With a TPA, you can pick and choose which benefits you would like to include in your plan. And later down the road, if you decide to eliminate one, it does not affect the rates of the other benefits.
3. Flexible Plan Options 
If you are a very large company, you might be able to negotiate flexible plan designs with the insurance companies. However, more than 98% of Canadian companies are considered SMB's, so chances are that most businesses won't get that opportunity.
Off the shelf benefits options
TPA's do offer pre-packaged plans that employers can choose from. A great example of this is BBD's Starter Plan. You can get a quote in just two days with very minimal information provided. Working with best-in-class insurance providers, a TPA can put together the best options for each benefit line.  
[Handbook] 5 of the Most Common Small Business Employee Benefits
Customizable plans
We all know that one size doesn't always fit all. Which is why using a TPA is advantageous. Employers can pick and choose which benefits they would like to provide. They can also add ancillary benefits such as Critical Illness or Diagnostic Specialist Access Insurance (DSAI) with various carriers if desired. There are also different plan types, such as catastrophic health paired with a healthcare spending account, to give employers even more flexibility.  
5 Reasons to Use the BBD Starter Plan for Your Employee Benefits Plan
Multiple carrier options for each benefit line
And of course, if those options presented still aren't the right fit, the TPA usually has relationships with multiple carriers for each benefit. For example, most of BBD's disability insurance coverage is through one insurer. However, for some industries with higher physical risk for injury, there is a specialist disability insurer that can be offered instead.
Different funding arrangements
Using a TPA gives you different funding arrangement options. From a simple Health Care Spending Account (HCSA) where the employer pays as employees claim, to Administrative Services Only (ASO), where the health and/or dental claims are paid instead of premiums. Or a combination of traditional and other funding options.  
4. Help With Claims Processing 
Perhaps one of the biggest benefits for employees is the assistance they can receive when it comes to submitting claims.
Difficult or denied claims
Sometimes a claim is denied, and it is difficult to determine why. Or perhaps just submitting the claim is confusing in and of itself. A TPA can assist by making sure everything was submitted correctly, or by reading the Explanation of Benefits (EOB) and helping to figure out the reason it was denied.  
What You Need to Submit Medical Claims Under a Group Insurance Plan
Disability claims
Disability claims are complex and can last for months. Which is why keeping everything organized and ensuring the employee is following any disability managemenet programs is imperative. Making sure that everyone is in communication and is providing timely updates is key to making sure the disability payments are continuous, and that the employee can return to work as soon as possible.
Life claims
Perhaps the most difficult type of claim, life insurance claims might be simple, but handling someone who is in mourning requires empathy. Using a TPA means that you'll receive that human touch, and the beneficiary will be provided with the information they need to proceed with minimal effort. 
8 Common Mistakes People Make When Filing Group Insurance Claims
Overall, using a TPA for your benefits plan as a small business just makes sense. With so many advantages, it's a winning strategy you can't afford to miss out on!